06 Apr 2021
Scaling, Funding & Loyalty Through Sustainability: Homethings Q&A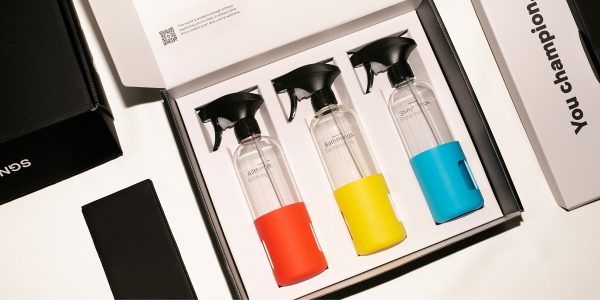 We recently caught up with Tim Keaveny, Founder of Homethings, a purpose-led brand, offering dissolvable tablet based cleaning products that aim to reduce the amount of household plastic used.
We find out how they built sustainability into their business from the start and how that's helped them attract funding, customers and talent.
Reset Connect: Tim, thanks for joining us. Please tell us how Homethings came about?
Tim: The idea came from the realisation that the average household cleaning product is 90% water, a stat in a report by the Ellen MacArthur Foundation. The idea that we're shipping around all this water, in single-use plastic, was bonkers to us! It was a big problem we felt needed to be solved from an environmental and sustainability perspective.
We developed all our formulations from scratch. We launched to market in 2020 in the middle of the pandemic with a Kickstarter campaign, which was basically a pre-sales campaign to our waiting list of customers. We've been live for about six months and growing really nicely.
Reset Connect: Why is it important to you for your business to be sustainable?
Tim: The reason we started was to get rid of single-use plastics in the home care space and reduce the carbon emissions of shipping around water. There wouldn't be Homethings the brand without Homethings the mission. And once you set your mission, it's so important to carry that through and be authentic and transparent and consistent with everything that you do as a business. So, for us, sustainability is absolutely at the core of everything we're doing.
If everyone in the UK was using our tabs, it would probably save 25 bottles per household times 27 million households in the UK! That's a lot of plastic that we could save every year!
Reset Connect: And what sustainability goals have you set yourself as a company?
Tim: Some goals we've set from a product perspective, so our effervescent tablets, for example, save 94% of carbon emissions when you compare that to a conventional surface care spray. And they eradicate single-use plastic from the supply chain and change the way we consume because you're refilling that same bottle over and over again. That's the way we're approaching all of our product development, designing for a circular economy.
The second aspect is how sustainable you are as a business which covers every touchpoint from how we treat our suppliers, which suppliers we use to how we treat our employees.
In terms of goals, the big ones for us initially are to become B Corp certified and to be carbon positive. There's a lot of debate around the merits of carbon offsetting, we acknowledged that, but I think it was important to do something rather than nothing. So we have basically been carbon positive from the outset through offsetting schemes.
It's important to make sure the goals we're setting are not just well intentioned, they're actually backed up by data and facts. So we've worked with an MSc in climate science to look at the data behind our products, look at the lifecycle analysis, etc.
Reset Connect: What tools and resources are most useful for your sustainability ethos as a business?
Tim: The first one is developing a really good network, whether that's other founders who've started sustainability led businesses, or domain experts. Speaking to as many different people as possible and trying to get the information and knowledge from those who've been there and done it before.
We started a sustainability podcast, before we launched our brand, for that very reason to talk to other founders, experts in sustainability and learn that knowledge for ourselves. The other aspect is using the amazing resources available for entrepreneurs. We worked with the London Waste and Recycling Board, for example, they've got a programme for startups to help with lifecycle analysis, look at business impacts from a circular economy perspective, areas we could improve, etc. That was super useful.
Lastly, it's having some external benchmarks you can measure up against. The B Corp accreditation process is a phenomenal thing to put your business through and gives you that.
Reset Connect: How do the SDGs factor into your day-to-day?
Tim: We identified which goals we aligned most with as a business; SDG 6 and 12. So access to freshwater, and responsible consumption and production. Then it's about how you design the culture of your business to align with these goals. Using this as an overlay for decision making is really useful, you can hold each other to account and say that's not really aligned with SDG 12. From a brand perspective it helps provide authenticity, transparency and consistency. If you don't have that your customers will see through it.
Reset Connect: What have you found most effective to market yourselves at this stage of the business's life?
Tim: We launched a Kickstarter campaign last year, which generated a bunch of customers waiting to get their hands on our product. Doing it through Kickstarter allowed us to really develop this community of early adopters who, I'd say are the most forgiving customers you will ever acquire. They've been following your brand story from the start, they love your idea, love your concept and, for us, we've seen they've been the most vocal about what they'd like to see changed about the product and what they love about it. And still today, months later they're still vocal about what products they want to see next, and where they want to see the business going next. So that idea of involving your early adopters and community in the growth and progress of the business and the brand is a really important thing to do.
Reset Connect: At what point did you look at securing seed funding or raising investment to scale the business?
Tim: We've actually been through an accelerator programme before we launched our Kickstarter campaign. So we had a small amount of seed funding to get the wheels in motion when we did our Kickstarter campaign. And then had a really successful campaign that allowed us to close an angel investment round off the back of that.
Reset Connect: Have your sustainability efforts impacted the generation of new jobs and new talent coming into the company?
Tim: I think it's a massive selling point for young talent. There's no doubt about that. If you speak to recent graduates, they don't particularly want those prestigious jobs of yesteryear, with companies like Shell, they don't want to work for companies with values that don't align with theirs.
I think that's a megatrend, and it's only going in one direction, people want their work to be about more than just work, they want their work to also have a purpose, and they want to believe in the mission of the brand or the business that they're working for.
Hear more from Tim and Homethings in the full video interview coming soon.
Sign up for the Reset Connect newsletter to get more insights from businesses on their sustainability journeys, innovations and scaling up. Our community of professionals prioritises both sustainability and business success. Let's support and learn from each other.