05 Jul 2021
Purpose-Led business: winning formulas to close the loop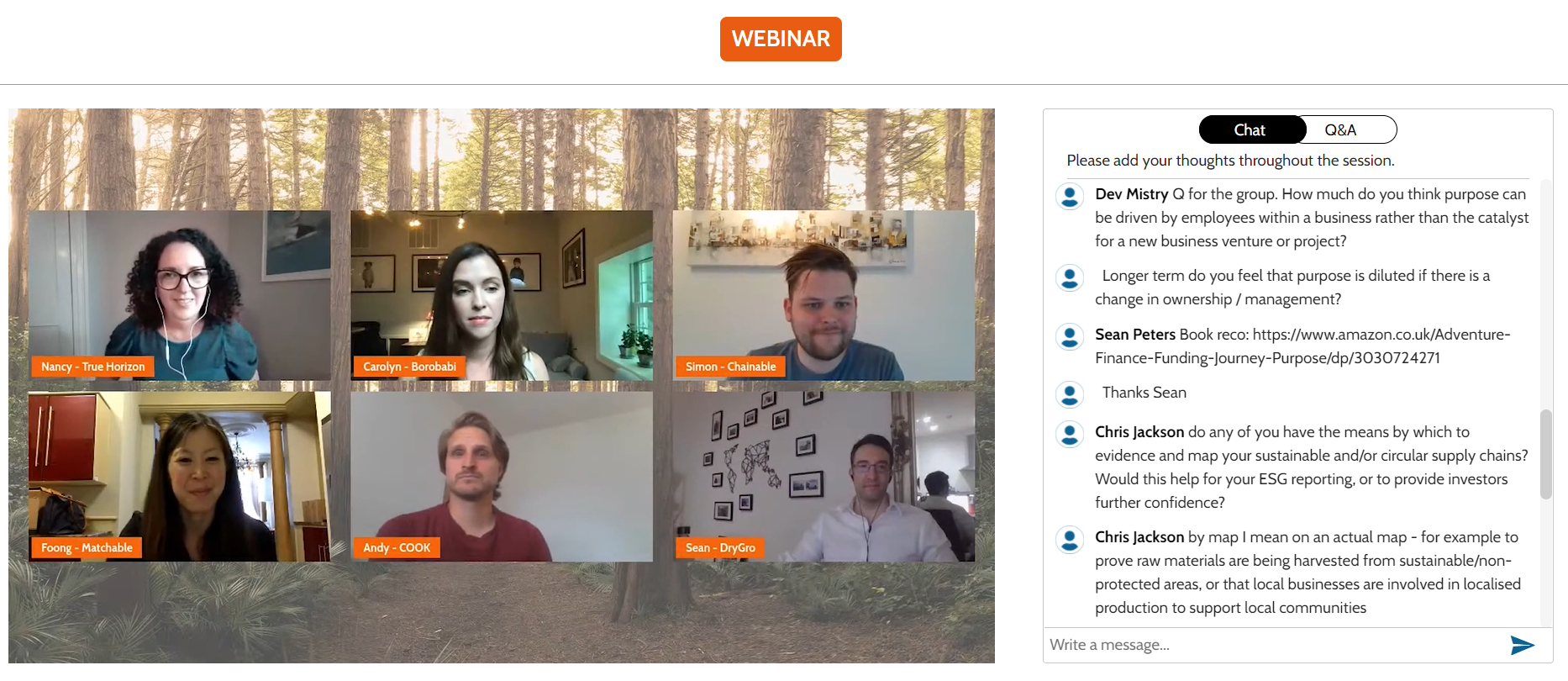 Our first ever London Climate Action Week kicked off with our webinar on 'Purpose-Led Business: Winning Formulas to Close the Loop' featuring six experts from various backgrounds, who are all innovating sustainable solutions and upending traditional industries whilst leading with purpose and value. Our panel included moderator Nancy Hyne, Founder of True Horizon; Simon Rombouts, Co-Founder & CEO of Chainable; Carolyn Butler, CEO of Borobabi; Sean Peters, CEO of DryGro; Wai Foong Ng, Founder of Matchable and Andy Stephens, Head of Sustainable Food at COOK. Hosting these six experts on our debut platform was an honour and speaks to our desire to continue to foster collaboration and community in transitioning to a more sustainable way of life.
Our panellists spoke on a variety of topics from barriers to purpose-led business to the importance of collaboration over competition. To fully appreciate the wealth of knowledge by our panellists and hear the nuances in the discussions, we highly recommend watching the webinar which can be found on demand here.
In this article, we will explore some of the issues discussed in the webinar. What is the driving force behind these purpose-led businesses? What challenges did our different panellists face in finding funding? Why is the need for collaboration vital in this area? Let's find out…
The Circular Economy Model
The Ellen Macarthur Foundation describes a circular economy as "based on the principles of designing out waste and pollution, keeping products and materials in use, and regenerating natural systems." The circular economy model is the antidote to the linear economy we currently employ, which includes energy intensive material extraction, disruption of natural systems and astronomical waste accumulation leading to the creation of 'plastic soup'.
The circular economy model is integral to Borobabi, America's first circular retailer for children's clothes, and Chainable, who create circular modular kitchens for housing corporations and institutional investors and sell "kitchens as a service." Carolyn noted that in America, 80 pounds of clothing per American per year is thrown out with a majority going to landfill and incineration. This was echoed by a statistic from Simon who said "In the Netherlands, 40 000 tonnes of kitchens get thrown away each year" with the majority getting incinerated. Such alarming statistics of waste emphasises the importance of incorporating waste management and recycling into the fabric of the business' DNA which works to the benefit of the environment, the consumer and any suppliers. Simon's aim at Chainable is to create incentives for kitchen suppliers, such as a monthly fee for appliances, creating a shared onus if appliances break down taking the pressure off consumers, especially if appliances are past their warranty date. Simon notes the reluctance of manufacturers in participating in this model as many do not even believe their appliances will last for 10 years, showing how deeply embedded the take-make-waste attitude really is.
Greenwashing
We have explored the dangers of greenwashing on our site before. Misleading, unsubstantiated and sometimes even blatantly false claims can erode customer trust and tarnish the credibility of legitimate sustainability campaigns. Companies should look further than just their direct operations for traces of greenwashing and should begin to evaluate whole supply chains. As the Head of Sustainable Foods at COOK, a B Corp certified frozen food company that's driven to creating nourishing relationships, Andy notes the importance of talking to suppliers and using a sustainability and ethics questionnaire to measure their position in their sustainability journeys. Andy notes that the metrics to quantify your sustainability management are still developing but it's vital to share information, determine what's a focus area for you and speak to the members in your supply chain.
Funding
A common barrier mentioned in the session was receiving funding for business. Finding an investor with the same values is imperative in weathering the storms that are characteristic of a start-up. DryGro's Sean advises "fundraise early, build investor relationships, document every conversation with investors and follow up with them," as learning opportunities are abundant. Different attitudes between countries to the notion of circular economies was apparent in Carolyn and Simon's search for funding despite both companies employing a circular model, a known profitable model. Carolyn's difficulty in finding funding in the United States, and instead relying on the investments of Angel networks, highlights the need for government engagement in driving sustainable development. Government possesses the power of bringing niche issues into the mainstream therefore bringing the notion of a circular economy to the masses. If more investors and advisors are aware of the benefits and financial viability of the circular model then more start-ups stand the chance of pitching ideas without being countered by the misconception that impact sacrifices profit, something Foong of Matchable has experienced in pitches first-hand.
Our panellists also explored how unconscious bias from investors hinders start-ups. A review found that women-led start-ups received just 2.3% of venture capital funding in 2020 with the pandemic causing investors to be more risk-averse and revert to existing networks, which is "very much a boys' club." The investment gap amongst multi-ethnic groups is starker as a report found that in the UK in the past 10 years (2009 to 2019), a meagre 0.24% of venture capital went to teams of Black entrepreneurs and just 1.7% of capital to entrepreneurs from multi-ethnic communities, which is classed as people from Black, East Asian, South Asian and Middle Eastern backgrounds. Tackling these biases are not jobs of entrepreneurs and founders but managers and leaders at investment companies. Incorporating bias training, educating employees with quantitative research reports on these investment gaps and expanding the diversity of employees hired are all vital in challenging this issue and requires time, effort and a top-down approach.
Innovation & Opportunity
As the saying goes, "necessity is the mother of invention." With many global issues needing more attention, such as food security, water scarcity and biodiversity loss, the potential for innovative solutions is massive! An example of innovation based off necessity is DryGro, an agricultural technology company focussed on creating alternative proteins for animal feeds. The company was born in Oxford University from research that showed the demand for soy, where most animal feeds come from, is increasing despite the scarcity of appropriate land. To prevent a monumental collapse in food systems, DryGro is creating an alternative that is high in protein, grows fast and hopefully will be viable for industrial production. Sean notes that being a purpose-led company leads to opportunities because of the community and connections that are formed as a result. He stresses the importance of this community especially when working on a large industry scale and how this community can be drawn upon to recruit specific expertise.
Collaboration
The recurring theme in this webinar was the need for collaboration over competition. We all acknowledge that a shift to sustainable business practices requires the cooperation of government, businesses of all sizes, investors, technology companies and consumers. Collaboration is at the heart of Matchable, a B2B company that matches companies to non-profits and impact start-ups to effect social change. This matchmaking service boasts a global network and aims "to deliver over £420m of value via 600,000 hours to organisations changing the world over the next 5 years." Foong expresses how personally rewarding this project has been after several years in a profit driven corporate environment. She notes the difficulty at times of differentiating between companies that claim to be purpose-led from the companies that genuinely are but has found immense support from the B Corps and start-ups community.
At Reset Connect, we are a community of like-minded entrepreneurs who support each other to achieve business success and work towards Sustainable Development Goals. Our first round of events would not have been successful without the collaboration and knowledge of all the expert panellists and the engagement of our inquisitive audience members, who are eager to connect and learn more about purpose-led business. If you want to be a part of this impact-driven community and learn about different business models, how to find funding and have the support of a global network of entrepreneurs, join our community here.