26 Apr 2022
Innovations in Green Building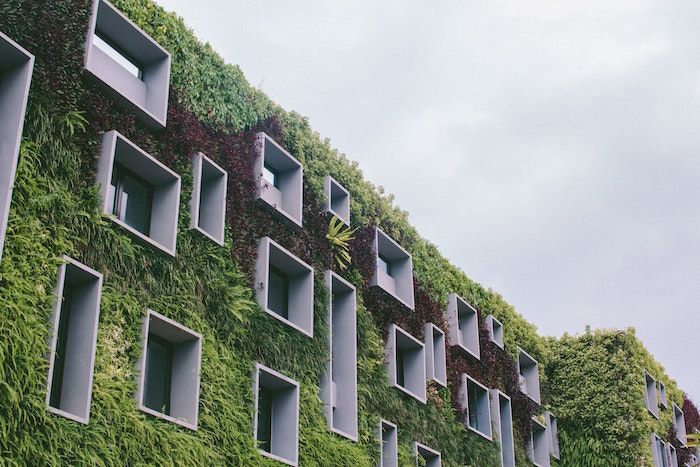 A green building, from its design to its operations, works with the natural environment to have a positive environmental and social impact for its occupants but also inspires revitalisation in the local community. The construction of a building must use sustainable technologies to qualify as green.
The LEED certificate (Leadership in Energy and Environmental Design) is the internationally accepted official recognition that establishes whether a building is sustainable. This is calculated via a points system that takes into account factors like materials and resources, energy and atmosphere, water efficiency and location. LEED certification levels are platinum (80+ points), gold (60-79 points), silver (50-59 points) and certified (40-49 points). Buildings represent 39% of global greenhouse gas emissions and so, it's vital we reduce this if we are to meet the international net-zero targets.
The UK Green Building Council (UKGBC) is a charity organisation that spans the entire UK building industry and is committed to improving the sustainability of the built environment. Its framework for net-zero buildings highlights reducing construction impacts, increasing renewable energy supply and offsetting extra carbon as key principles in transitioning the industry to net-zero. Buildings that allow a lot of natural sunlight, have efficient insulation and ventilation systems, access to nature and use of eco-friendly materials all contribute to better physical and mental health for occupants and boost productivity in workers.
Intelligent buildings
The concept of independent, sustainable buildings is no longer confined to futuristic science fiction. Self-sufficient features include onsite renewable energy generation, rainwater utilisation systems and built-in water sources. Examples of off-grid, self-sufficient buildings are Lochside House in the Scottish Highlands and the House for all Seasons in rural China. Both buildings are humble, while reflecting their different requirements, with the latter incorporating concrete framing for increased earthquake resistance. Lochside House features its own solar electricity generation and sources water from a specially built well which is ideal given the rural location. This innovative solution could be implemented in rural buildings that have unreliable power grids and lack of access to a consistent water supply.
Technological advances have allowed buildings to now utilise a mix of AI, sensors, the Internet of Things and online connectivity to monitor the operations and efficiency of the building to generate insights that can be translated into environmental and money saving measures. Even basic smart building controls can save 10-15% of energy in commercial buildings.
Cybersecurity is a concern for smart buildings given the amount of data that could be produced from tracking operations and occupants. So, such buildings will require up to date measures to prevent such breaches. Despite the risk, the information generated by a smart office or commercial building can be useful for management and any external stakeholders, such as investors, who have a vested interest in the successful running of a business.
We spoke to Juan Carlos Nisbet from Hark Systems, an energy analytics and industrial IoT company and one of our partners. He said:
"Aggregating and gaining visibility of data – whether that's energy data or specific asset data (like temperature, lighting, etc.) - is an important first step to maximising efficiency in a building. By gaining this data visibility, facilities managers are empowered to see any under-performing areas and make operational changes to ultimately reduce costs and improve the way the building performs as a whole. This kind of connectivity is a great step towards an energy efficient future."
Government led green transformation
With compact land, a high-density population and a burgeoning financial sector, Singapore, 'The Garden City', has been very proactive in ensuring nature is incorporated within the ever-urbanising country. Iconic features like the Flower Dome, a huge glass greenhouse full of exotic plants and various nature themed entertainment at Changi Airport perfectly marry nature and creativity making it a great attraction for tourists. Since 2008, it has been mandatory for new builds and retrofitted buildings to attain a minimum score in the national green building rating system which has accelerated the country's green building portfolio significantly, so that 40% of buildings are green (the country aims for 80% of its buildings to qualify as green by 2030). Since 2013, all building owners have been required to submit energy performance data annually which local industry experts believe has increased environmental awareness due to increased transparency.
Through The Skyrise Greenery Incentive Scheme, introduced by the Singapore National Parks Board, funding for up to 50% of installation costs of rooftop and vertical greenery has been provided. The environmental benefits of more greenery are improved air quality through increased plant oxygen output and mitigation of heat (synonymous in urban islands like Singapore) through plants' transpiration. Residential and non-residential buildings are eligible for this scheme highlighting Singapore's ambition in achieving the targets set in the Paris Agreement and providing a business case for greener buildings especially for other densely packed cities.
Investment & financing
Green building projects must be financed to achieve net-zero targets. Depending on the project this could be governmentally, privately or collaboratively funded or by a hybrid of public and private sector finance or through alternative measures like crowdfunding. It is reported that building a new house with high energy efficiency standards and a heat pump instead of a gas boiler costs about £4800 compared to £26,300 which is the cost of simply retrofitting a building to current efficiency standards.
By investing in new builds, investors are meeting green buildings demand whilst saving money through building. Green real estate is plagued by the perception that these require higher risk investments with a longer time frame on return. This perception exists because investments are made based on cost-benefit analysis but due to the difficulty in quantifying the benefits of these green builds, the benefits of green buildings are inaccurately evaluated. However, with the increasing need for green real estate and the fast-developing innovation in this area this is being challenged. The failure to measure the impact of such projects however has widely been cited as the main factor hindering wider financing. But against changing and evolving ESG criteria, impact can be better measured and understood across diverse international markets through clear standardised benchmarks, which creates accountability and transparency.
In some ways, investing in new builds is the best way forward as it's more cost effective than retrofitting. However we need to be doing both, because if we're just building lots of new green buildings whilst allowing the old buildings to be highly-emitting, we're adding to the problem. We need to reduce the emissions associated with our buildings, this is especially important due to the growing populations of our cities. This should be done both by retrofitting existing buildings and ensuring that all new buildings operate sustainably.
Reset Connect London, 28-29 June, will bring together industry leaders, innovative start ups and investors to speed the transition to a green economy and fast-track the journey to net zero. Green buildings are an important aspect of this change. We simply won't reach net zero without updating how our buildings function. Get a ticket to find out more.