05 Jan 2022
Innovations in Food Supply Chains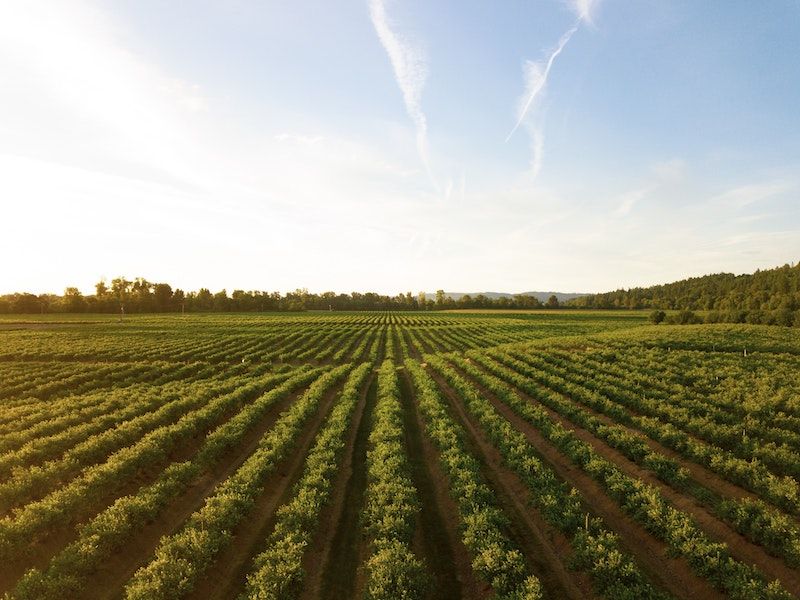 BREXIT and COVID induced staff shortages have brought a lot of attention to supply chain issues, whilst also causing waves of panic buying and anxiety in the public. This did not only happen in the UK. Throughout 2021 there were global issues; China faced a massive power shortage, the US experienced a computer chip shortage and congestion in its ports and Australia dealt with timber and materials shortages that hindered its burgeoning demand for homes. And these are just a few of the many examples.
The past year has shed light on how uncertain yet crucial our supply chains are. To solve last year's issues, each country had to rely on quick fixes, but in the long term, we need to rethink our supply chains for more sustainability, resilience and efficiency.
We already explored this matter in our article 'How to identify business benefits through your value chain'. Now, let's explore some innovative developments that could significantly improve supply chain management.
Agriculture and production
Agriculture is plagued by several environmental issues like resource scarcity, unpredictable extreme weather and rising demand to feed a growing population. Connected to this there are social issues such as labour shortages and poor farmer wages.
A major development in this industry is the popularity of buying local from farmers markets, a practice that removes emissions from journeys with large food miles, gives farmers better returns for their produce and removes long-winded steps seen in traditional food supply chains like food preservation.
Agtech innovations can be divided into those that propose alternative agricultural techniques and those that aim to refine existing methods.
An example of a new growing technique is aeroponics, an indoor soilless cultivating method developed by NASA that's said to reduce water usage by 98% and fertiliser usage by 60% whilst maximising crop yield. Products that can be grown using this technique include, but are not limited to, vegetables like lettuce, spinach, kale, different varieties of cabbage, and other leafy greens. Fruits like melons, strawberries, tomatoes and also legumes like peas or beans. The global aeroponics market was valued at $578.70 million in 2018, and is projected to reach $3.53 billion by 2026.
Other innovations in this sense include aquaponics, a technique that grows plants and fish in the same ecosystem efficiently utilising nutrients and employing drone technology to monitor large scale farms and limit resource wastage. Aquaponics are best suited to tilapia and barramundi, because they tolerate diverse water conditions well and grow fast. As for the vegetables, those that don't need heavy nutrient input, such as lettuce, kale, watercress, arugula, decorative flowers, mint, herbs, okras, spring onions and leek, radishes, spinach all do well. The global aquaponics market was valued at about 523.7 million U.S. dollars in 2017, and is forecasted to grow to about 870.6 million U.S. dollars by 2022.
In terms of agtech innovations of existing methods, there are companies such as Indigo Ag, who develop microbe-coated commodity seeds that are more resilient and therefore require less pesticides and synthetic fertilisers.
All this has created a boom in agtech, which is estimated to be valued at $22.5bn by 2025 according to research. New start-ups incorporating research and technology are frequently popping up to address specific agricultural challenges like our sustainability ambassador DryGro, a company developing a low cost method to develop soybean alternatives (watch our interview with CEO Sean Peters here), or another UK start-up Better Origin which converts waste food into essential nutrients using insects and aims to decentralise food production using drag and drop insect farms.
Sustainable Packaging
Packaging has seen a lot of creative sustainable innovations like this styrofoam-like popcorn packaging or food packaging made from sugarcane waste. An interesting phenomenon that has risen just lately is that of edible food packaging. Companies from all over the world have gone creative with products such as edible straws, cutlery or six-pack rings. As they say, if you can't beat 'em, eat 'em.
All of them cleverly utilise waste and promote circularity. The packaging part of supply chains raises issues of plastic wastage, carbon emissions and whether packaging is even needed at all. Businesses flex their creative marketing muscle in their packaging by using excessive materials. However, less is more when it comes to packaging and this is something France recognises by implementing a ban on plastic packaging for 30 fruits and vegetables from January 2022.
In the UK, households use over 500,000 tons of plastic food packaging but recycle less than 170,000 tons each year. Plastic packaging is still widely used by supermarkets to extend the shelf-life of their products, but this is simply not worth it if we consider its consequences. Every year, the UK produces more than 1.2 billion plastic bags for fruits and vegetables, 1.1 billion single-use bags, and 958 million bags for life.
The supermarket leading the game in plastic-waste reduction is Waitrose, which is providing refill and reuse options for its customers as well as producing bags entirely made from compostable materials. Sainsbury's has also expressed its intention to reduce its plastic packaging by 50% by 2025. However, in 2021 Sainsbury's only reduced their plastic waste by 1% and were ranked last on the list when it came to plastic waste management.
Innovative materials aside, many companies are focussing on simpler measures like using recycled materials, removing tags where possible and opting for packaging that is about the same size of the product. How many of us have received large Amazon parcels only to find a small item and too much cardboard and bubble wrap? It's incredibly wasteful.
Smart Transport
Self-driving automobiles are no longer a futuristic dream: both China and the US have already employed this breakthrough technology in some areas to replace their ordinary taxis. However, this technology has a much bigger potential that goes beyond big metropolitan cities.
As the planet warms, it becomes increasingly dangerous for humans to spend several hours working under the summer heat, so autonomous vehicles could be the perfect alternative to preserve farmer's health without impacting efficiency. Vehicles such as driverless tractors are a reality and have the potential to sharply reduce the farmer's costs of production, boost productivity and reduce the pressure on finding new workforce.
Robotics are also being taken into the sky thanks to drones. This can help farmers not only in terms of labour, as an additional help in fertilizing, draining and irrigating the fields, but also in terms of monitoring and data collection. American company Kray Technologies has developed the first fully digital and unmanned drone crop sprayer, capable of autonomously spraying up to 1200 acres per day. The drones are offered as a more sustainable alternative to ag planes, using less fuel whilst being more efficient.
Conclusion
As technology continues to develop, there are no limits to how future supply chains can be improved. Right now, the existing issues are unsustainable and carbon intensive practices, excessively long supply chains that involve multiple parties, labour shortages and eventually resource shortages which will force us to rethink our business practices.
What's missing is the involvement of ALL: the sustainable revolution of agricultural supply chains is not only up to farmers but to us all. As businesses or single individuals we can do a lot by being conscious about which suppliers to use, which caterers or supermarkets to choose, and supporting local products and farmers.
As innovators and solution providers we need to ensure we are educating farmers, investors and the agricultural community of the sustainable opportunities available and the benefits they add in the short and long-term. We need to work with the financial and agricultural communities to spread the word, make access easy and provide financial support where needed. Educating both industry, investors and consumers on the key issues and solutions being developed remains crucial to ensure the adoption and transition to sustainable and innovative supply chains.
If you are an agtech solution doing inventive work, have your own sustainable innovation that you would like to share with the world or are an investor looking to support sustainable agricultural adoption and innovation, you will want to get involved in our 2022 event.
Reset Connect London 2022 will be the UK's largest sustainability ecosystem and ESG investment gathering which will address how present & future net-zero innovation & technology is going to be paid for and implemented.
Fill out this short form to get in touch and start making a difference from TODAY.