05 Aug 2021
How to scale through collaboration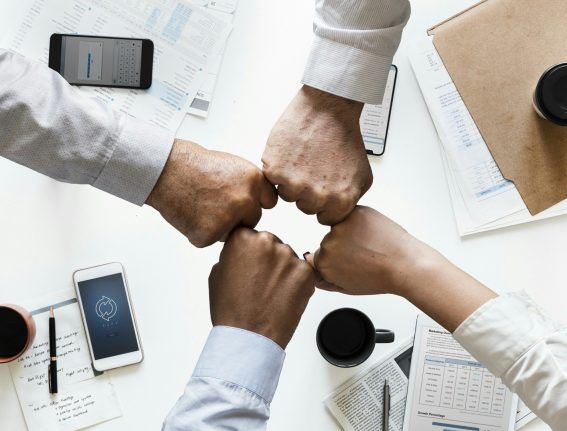 Although we are now accustomed to hearing terms such as 'climate change', 'pollution' 'environmental crisis' or 'global warming', not everyone takes action in support of them. At Reset Connect, we believe the only way to revert the direction in which our planet is going is through collaboration.
Luckily, we are not the only ones to think so. In the past few years, we have seen small and big companies reduce their prioritisation of profit and focus on other aspects to benefit their business and communities including partnerships to build a greener market. As we need to find quick solutions to the practices that are killing our planet, collaboration is undoubtedly the most effective and resource friendly way to do so. To cite the new campaign launched by Adidas and Allbirds for more sustainable shoes "We're one planet, so let's act as one. Collaboration will get us to better, sooner."
Sustainable brand partnerships increase the pool of conscious consumers. This happens because although no one is too small to make a difference, big brands and retailers usually operate within a loyal consumer base which will most likely follow their lead. This gives bigger brands the power to make a significant change amongst the population, therefore accelerating our journey towards net-zero.
Below, we look at brand partnerships' success stories to see what worked for them and how to apply those learnings to our everyday life or business development process.
Elvis & Kresse x Burberry
Founded in 2005, Elvis & Kresse is a UK B-Corporation and luxury brand specialising in rescuing raw materials, especially damaged, decommissioned fire hoses, and transforming them into lifestyle accessories, such as bags, wallets or purses.
In 2017, in line with their new Responsibility Agenda, the British luxury fashion house Burberry announced the launch of a five year partnership with Elvis & Kresse. The partnership was aimed at reducing the 800,000 tonnes of waste that are sent to landfill each year by the global leather industry.
Through this partnership, Burberry was able to transform at least 120 tonnes of leather offcuts from their products into a range of accessories and homeware that were in turn sold by Elvis & Kresse. Half of the profits from this range were donated to charitable causes focused on renewable energy. The remaining half was reinvested by Elvis & Kresse to expand their work in reducing and reusing waste, protecting the environment and inspiring craftspeople.
LanzaTech x ArcelorMittal
Between 2010 and 2013, one of the world's largest steel producers, ArcelorMittal, registered an increase in its emissions by more than 10%. As a response to this data, in 2018 ArcelorMittal decided to partner with carbon-recycling firm LanzaTech to house a new installation at its site in Ghent, Belgium. The technology provided by LanzaTech allows ArcelorMittal to convert carbon-containing gas from its blast furnaces into bioethanol. This installation, which is the first of its kind on an industrial scale in Europe, is expected to yield an annual CO2 saving equivalent to putting 100,000 electrical cars on the road.
"This partnership is an example of how we are looking at all potential opportunities to reduce CO2 emissions and support a transition to a lower carbon economy," said ArcelorMittal Vice-President of Innovation, Carl De Meré.
The application of this microbial gas conversion system significantly advances ArcelorMittal's long-term aspiration to become a zero-waste business. Similarly, it introduces LanzaTech's groundbreaking technology on the market, giving the possibility to other businesses to learn from it and improve their own emissions.
Aerofoil Energy x Sainsbury's
In the UK, almost 10% of total energy usage can be attributed to supermarkets. This is largely down to the energy consumption of their fridges. To address this problem, the supermarket giant Sainsbury's has partnered with Formula One developers from Williams Advanced Engineering and Aerofoil Energy to develop new aerodynamic devices to reduce fridge energy consumption by more than 40%.
The technology used was originally created for the purpose of diverting air over and around race cars to allow them to maximise performance. However, it proved to also be useful also for in preventing cold air from leaving fridge cabinets, directing it back into the fridge to save energy, keep aisles warmer and reduce food waste.
Sainsbury's established this partnership in line with its objective of reaching net zero across its own operations by 2040. With the 2020 opening of its store in Battersea Park Station, London, Sainsbury's proudly announced that all of its convenience stores and supermarkets are now fitted with this innovative energy saving technology. This adds up to 400,000 installations and 8,783 tonnes worth of emission savings each year.
Shark Solutions x Interface
On average, 6% of all the cars in the world, which amount to over one billion, require a replacement window every year. Until now, the laminate material (PVB) that prevents the windows from shattering was non-recyclable and was therefore sent to landfill. However, since 2016, the global modular flooring manufacturer, Interface, has partnered with Danish based cleantech company Shark Solutions to make the circular economy come to life.
Through an innovative technology developed by Shark Solutions, the two brands have managed to rework broken windshields into polymers that can act as an alternative for latex precoat, the main backing used in carpets. This means that Interface is now able to produce carpets out of the laminate found in car windows.
Developing this new technology and product was not an easy task: it took Interface and Shark Solution 7 years to get to the final product. However, as stated by Jens Holmegaard, Shark Solutions' Managing Director: "We can take PVB that would have normally been wasted and make it into a new format that can have a new life as a raw material. This has major financial, economical and green benefits".
Sustainability Through Collaboration
These are just a few of many business examples that demonstrate how it is possible to accelerate our journey towards net zero emissions through collaboration.
Some may be worried that partnering with competitors could be a risky strategy but collaboration is the backbone of sustainability and sustainability is the present and future. Allbirds have gone as far as making their formulas open source. They see far more benefits in transforming the training shoe industry for the better (and knowing they were instrumental in this) than worrying about competitors being able to replicate their soles or materials.
Allbirds is one extreme. You could collaborate without sharing formulas or confidential business insights. Each business will need to approach this differently but starting the conversations, sharing resources and knowledge and working towards shared goals has far reaching benefits for both businesses and their wider industries.
Where are your knowledge or technical gaps? What goals are you struggling to reach independently? How much quicker could you transform your business with support? Could any of these areas be improved through partnerships and collaboration?
At Reset Connect, we aim to facilitate the creation of connections by building a community of sustainable businesses and professionals that have something to offer to one another. Turning a competitor into a partner can bring great benefits not only to your business, but also the planet.
If you would like to join our community and know more about our upcoming networking opportunities, sign up for our newsletter here.
Other articles you may find of interest if you are thinking of partnering with other businesses:
https://www.mckinsey.com/business-functions/sustainability/our-insights/creating-partnerships-for-sustainability
https://www.theguardian.com/sustainable-business/procter-gamble-sustainability-report-partnerships
https://www.hks.harvard.edu/sites/default/files/centers/mrcbg/programs/cri/files/PforSD(Exec_Summary).pdf
Links
https://www.commonobjective.co/article/brand-collaboration-good-for-business-good-for-sustainability
https://www.adidas.co.uk/futurecraft-allbirds
https://www.elvisandkresse.com/blogs/news/the-burberry-foundation-partners-with-elvis-kresse
https://www.greencarcongress.com/2018/06/201806212-srelormittal.html
https://www.about.sainsburys.co.uk/news/latest-news/2020/05-03-2020-millionth-formula-one-fridge-fitted-in-new-sainsburys-store
https://www.responsiblebusiness.com/sdg-action/planet-news/interface-recycled-pvb-from-windscreens-to-carpet/