19 Aug 2021
How to identify business benefits through your value chain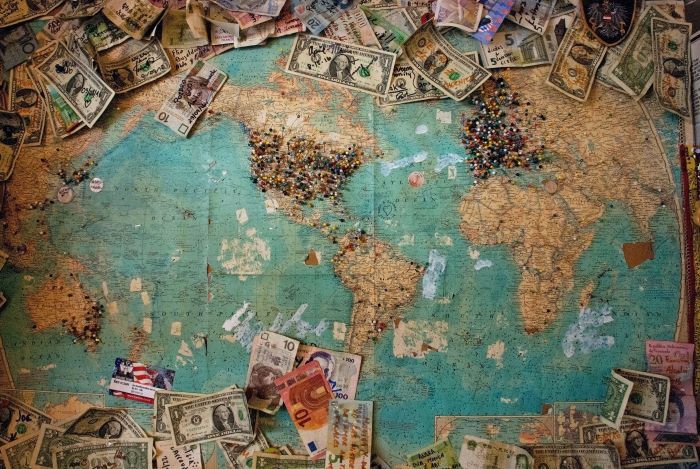 What is a value chain?
The value chain is the entire life cycle of a product, from the conception and raw materials to distribution, the end user and disposal. Whereas a supply chain is the systems and resources used to get the product from the supplier to the customer. We tend to look more at the supply chain as this supports the operational efficiencies of our business' day to day. However, the value chain has far more steps which means many more touch points that feed into your operational costs, your customer experience, your environmental and social impact, your competitive advantage and your carbon emissions.
Where does sustainability fit into all this?
If you are only reviewing your supply chain you are only aware of one part of your business' network of systems and resources. If you are only concerned for example with getting the milk from the dairy farm to the factories and warehouses for distribution to the supermarket for final sales you are missing the costs involved with the dairy farm itself, their hygiene, ethical and safety practices, their sustainability measures, the livelihoods of the farm workers, the specifics around transportation to warehousing, livelihoods of the people involved in these stages, waste onsite, disposal, waste, refrigeration and storage at supermarket premises, transportation, use and waste with the end customer. Your actual commitment to the product starts with the land and resources at the farm all the way through to use and disposal with your end customer to next steps with the council collecting and processing 'your' waste.
Until we understand this bigger picture of each of our products we cannot optimise for cost benefits, competitive advantage or sustainability gains. We need to look at all stakeholders with a more holistic view to understand where we can add more impact and value.
As we all start reviewing our sustainability commitments more, our customers are expecting more transparency around our intentions, actions and policies. By not reviewing the entire value chain a company cannot be fully committed to sustainability as they have not acknowledged their blindspots.
How to get started?
Undertaking a value chain analysis is a useful process to unearth these blindspots and provide transparency of the full workings, relationships and dependencies of your business. It offers many useful business insights. You can review your value chain in terms of competitive advantage, resource efficiency or sustainable impact for example. You can use the same model to look at a different factor each time.
The basis of most value chain analyses is Porter's Value Chain, where business activities are summarised as either primary or support. There is also a Five Step Approach (page 7) from World Business Council for Sustainable Development. The UN has also put together an Identifying Sustainability Hotspots Across the Value Chain template you may find useful.
Agricompas shows a simplified value chain below for the cocoa industry.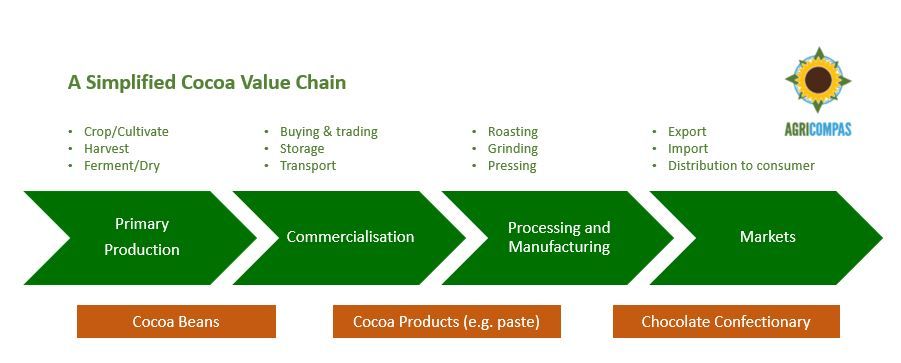 How can you apply this to your own business?
Look at each step of your product lifecycle. Where can you improve operational efficiencies, where can you add more value to communities, the environment, cost savings for your bottom line?
Design and packaging (can altering the design mean the product lasts longer or materials recovered at end of life)

Sustainable inputs and suppliers (where can you opt for suppliers with green practices or use more efficient equipment to reduce emissions? Transparency here is great for attracting new customers)

Resource efficiency (can water or bi-products be reused in any operations?)

Optimising supply chain (can local suppliers cover your needs? This would offer greater resilience)

Circular economy thinking (looking where you can keep materials in use as long as possible and turn waste into new material input)
What about partnerships within each of these areas? Do you have open communication and shared values with these partners? Optimising these partnerships is key to driving change.
Partnerships improving the value chain
The Sustainable Apparel Coalition was set up to bring together the apparel and textile industries to share best practice, innovative solutions and frameworks to provide standardised measurements for value chains. Partnering has made it easier for businesses within the network to create change within their own organisations and networks and advance social and environmental sustainability within the industry.
The Ellen Macarthur Foundation has developed the New Plastics Economy, a group of key stakeholders within the plastics industry to rethink the future of plastic. By actively working to seek innovation for this key component in companies' supply chains they are investing in future gains to to their value chain.
Coca Cola partnered with the United Nations Development Program (UNDP) to tackle water resource management globally and support developing countries in tackling water stress from climate change. As a key ingredient in their products, Coca Cola needed to partner to work on the problem of water availability and sanitation in order to be able to create change for the better in the communities they serve and in their value chain.
Identifying valuable materials to reuse and save money
Rather than leaving customers with the burden of disposing of a used or faulty product, incorporate steps into your value chain to retrieve these products for reutilisation into a new lifecycle. Waste management and product disposal must be considered and integrated into a variety of areas from sourcing recyclable materials, designing for reassembly, engaging customers to then managing waste streams.
The 'Lifting the Lid on Waste' report by Business in the Community shows that UK businesses could benefit by up to £23bn/year with resource efficiency measures, as well as reduced landfill tax payments. The report also found that changing end-of-life treatments can deliver carbon emission savings between 20% and 110% depending on the waste stream. Businesses can engage with customers and create incentives to return used products, like Patagonia's trade in scheme which credits customers with store credit for used items or encourage customers to recycle through store mandated takeback services, like Dell's free device recycling programme.
Collaborating with businesses that specialise in dealing with used products may be a good option if you do not have the capacity for these services within your business. Re-Tek works with businesses and offers IT disposal services including refurbishment & redeployment and Waste Electrical & Environmental Equipment (WEEE) recycling. The company repairs used IT products and sells them to new owners sharing the revenue with the previous owner preventing approximately 250,000 units of IT equipment from going to landfill each year.
Summary
Reinforcing your value chain with sustainable practices and partnerships yields growth and resilience whilst practicing transparency and accountability in turn creates a more favourable brand. As climate change awareness grows, sustainable goals could be mandated by law so adopting sustainable practices early will keep your business in good stead.
If you are eager to make sustainable changes to your business but aren't sure where to start Reset Connect is here to help you. If you would to know how your business can thrive in its sustainability journey, join us by signing up.