29 Jul 2021
How can we build trust in sustainable investing?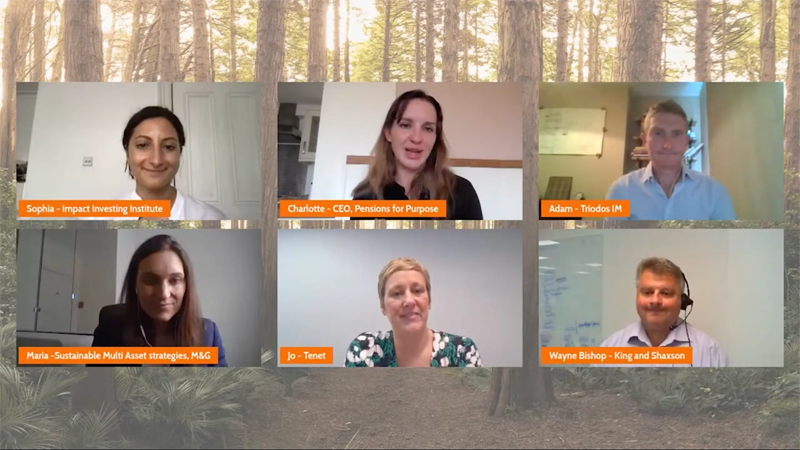 For too long we have been accustomed to think of banking and financial institutions as soulless, profit-driven capitalist machines. But does it really need to be this way?
As part of London Climate Action Week, we heard from six experts in the field of ESG investments that have made it clear that being a sustainable investor is possible. The panel we chose to shed light on this matter were: Wayne Bishop, CEO of King & Shaxson, Joanne Rigby, Technical Director for Tenet, Adam Robbins, Investor Relations for Triodos, Maria Municchi, Multi Asset Fund Manager at M&G and Sophia Omar, Programme Officer at the Impact Investing Institute.
Thanks to the help of our moderator Charlotte O'Leary from Pensions for Purpose, the discussion touched various points such as: how to build trust and purpose whilst remaining focused on targets, how to recognise whether or not your asset managers really believe in your sustainability agenda, how to level the playing field between larger companies or high-income countries and emerging economies and small businesses.
To hear the answer to these questions and much more, we recommend watching the full webinar here. However, keep reading this article for a quick overview of the key points discussed.
The Spectrum of Capital
In which direction are ESG investments moving and what can we do to accelerate the shift towards a more sustainable investment approach?
Pensions for Purpose's CEO Charlotte O'Leary explains how some years ago we used to look at the spectrum of capital in the 'traditional' way, which is to say without considering the impact that our investments might have had, whether positive or negative.
However, as we become more aware of the importance of our actions, the spectrum of capital is moving in different directions: many find themselves in the responsible investing category, which means people are looking to avoid harm and mitigate environmental, social and governance risks.
But is this enough? Mitigating the risks does not mean your actions are becoming a force for good. As Charlotte pointed out "We are not going to be able to address the climate change crisis or the social inequity that we see, just by mitigating risks. We need to be contributing to solutions."
Luckily, the awareness of the importance of how we decide to invest our capital is spreading amongst all stakeholders and shareholders, and we have seen a sharp increase in sustainable and impact investing in the past few years.
Whilst sustainable investing uses capital to benefit all stakeholders and to improve outcomes for people and planet, impact-driven goes a step forward and focuses on contributing to solutions to the environmental and social challenges we face.
The real question to ask all readers is: what kind of investor do YOU want to be?
Building Trust and Transparency
Building trust and transparency in the banking and financial services sector is key to ensure that investors can make informed decisions regarding where their money is going to be invested.
For Maria from M&G, the best way to do so is by being very transparent about how different fund managers are applying ESG sustainability and impact and also very clear in terms of reporting . Also, make sure to be evidencing what has been done through the investment strategies.
Adam from Triodos believes the key to create transparency and trust within the sustainable investing arena lies in doing what you said you were going to do and demonstrating that your company's sustainability goals truly reflect your actions.
Whilst both make good points on how to build trust and transparency, Adam also likes to remind us about the dangers of greenwashing and the importance of digging deeper and interacting with companies to make sure that sustainability is ensured not only in the product itself, but also during its manufacturing process.
As concluded by Wayne "​​when you start saying you are following ESG principles, it is something genuine and not just another great data managed tick box exercise."
Investing in the Change-Makers
So how do banking and financial services ensure the attainment of their targets whilst remaining focused on sustainability and creating impact?
At Triodos, Adam Robbins prides himself on investing exclusively in 'change-makers'. Triodos' position when selecting the sectors and companies to invest in is to think "how you invest defines the world you want to live in".
Their starting point is to examine global trends that pose significant challenges and then look to invest against those to provide solutions. Triodos is only looking to invest in companies that actively contribute to the creation of a sustainable society with their products, services and practices. They believe that investing in companies that have the potential to hit a certain target or rating is not enough, because those remain the "winners of the past" whilst impact-driven companies represent the "winners of the future".
A Genuine Impact
Another key point touched on during the session was how to ensure that asset managers truly believe in the sustainability agenda?
Adam explains how Triodos's business model does not include any incentive schemes or remuneration based targets surrounding return or impact. Sustainability is embedded in the company's culture, the DNA, the processes and the desire for people to work within the organisation. Being impact-driven is not something that remains tied to the bigger objective of economic return, but it is the final objective itself.
This lack of any kind of incentive scheme is important in ESG in order for companies to remain focused on their purpose, which should always remain their main priority. At King and Shaxson they have found a solution for doing so by carrying out regular reviews with asset managers to make sure that their sustainability targets are always being met with the most genuine intentions.
Moving forward
Reset Connect is here to help you accelerate your journey towards net zero by creating valuable connections between investors, financial services and sustainable businesses. Collaboration is key if we want to shorten the timeframes for achieving our goals.
Indeed, as pointed out by Maria from M&G " When we think about transforming our economy towards a more sustainable one, it's not only about private investments but really the role of public spending is crucial and extremely important. So it's the combination between these two forces that really can do a lot in transforming the way we operate as a society."
We all should play our part in making the change, and only in this way we will be able to move towards a more sustainable economy in the quickest possible way.
Find out more about the discussion and thoughts from the panel by watching the webinar 'Building Trust in Sustainable Investing' on-demand.
Don't miss out on the chance to be a part of a large network of ground-breaking pioneers. Make sure you have signed up to our platform here, and make the most of the opportunity to connect and collaborate with our growing community of sustainable businesses and professionals on our platform including the speakers by clicking the 'attendees' button and messaging directly.