24 Aug 2021
Does incentivising employees on sustainability goals work?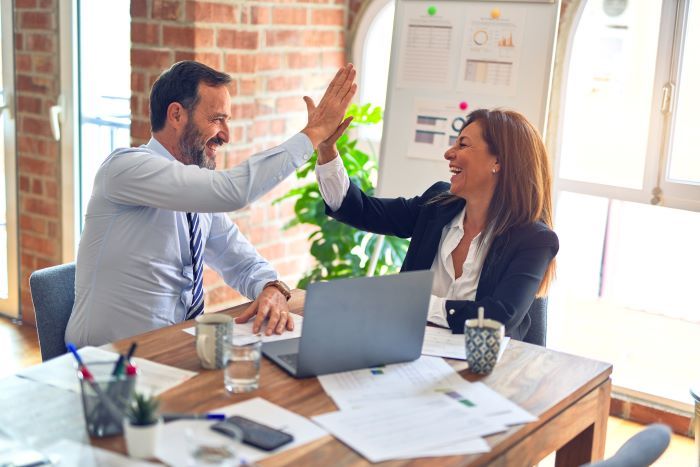 We all know that business adoption of sustainable practices is the biggest driver to achieving net-zero goals given the global reach and influence of some businesses, which governments do not usually experience. Last year in the UK, the business sector accounted for 18.2% of all carbon emissions and with more senior level executives turning their attention to sustainable goals, how do employers ensure employees adopt more sustainable practices? Could incentivising sustainability goals be a good strategy? Let's investigate…
Shifting from deep rooted habits to sustainable practices requires large-scale behaviour change and a collaborative effort. But behaviour change is no easy feat. Incentivising sustainability with rewards is a good way to engage employees, keep them accountable and create a productive work environment.
So, let's look at some ways to incentivise sustainability. Maybe you can employ some of these strategies in your business.
Linking environmental performance to pay/bonuses
Recent PWC research shows that 45% of FTSE 100 companies have integrated an ESG target into their annual bonus scheme, long term incentive plan or both. ESG refers to environmental, social and governance criteria that measure a company's environmental and social responsibility. The increasing popularity of these methods suggests a greater awareness of environmental and social issues but also seeks to improve prospects for funding as 89% of investors say the inclusion of sustainability metrics in variable pay is important in both annual and long-term incentive plans.
Since 2008, tech giant Intel has linked a portion of executive and employee compensation to corporate responsibility with 50% of its annual bonuses dependent on operational goals like climate change and diversity. Each year compensation is aligned with specific environmental metrics. All efforts are now focussed on working towards Intel's 2030 sustainability goals, which includes bolder ambitions like achieving 100% renewable energy across all global operations and zero total waste to landfill. Intel reports that the company exceeded each of its environmental goals attributed to its 2020 bonus for executives and employees suggesting that creating a shared onus for achieving sustainable goals throughout the company is clearly working!
Perks and benefits
Rewarding sustainability with perks may be a more viable option for smaller businesses that may be overwhelmed and under-resourced to rework their pay structure to incorporate ESG targets. Days off, paid experiences, more responsibility at work, flexible work arrangements, gifts or even just recognition are all examples of rewards. Research by Think Smart found that companies using incentive programs report a 79% success rate in achieving their goals when the correct reward is given. Though not specific to sustainability related goals, evidence shows that an appropriate award possesses the ability to spur on employees.
2020 results from Jump, a company that specialises in engaging employees to reach sustainability targets, showed that despite a pandemic year engagement and results were high. On Jump, users engage, track and are motivated to hit specific sustainable targets. They are then rewarded with 'green points' which are then used to attain rewards set out by their employers. Last year, a total of 63,700 users took part in Jump programmes including staff and students from universities, NHS trusts and corporates. They found that all the actions logged in 2020 saved 11.1 million kW of electricity and prevented 4200 tonnes of CO2 emissions. Though a voluntary opt-in programme, the success of Jump illustrates the demand for more engaging measures and that rewards can work. Particularly interesting is the fact that many of Jump's clients are universities. A survey by The Purpose Pulse found that 65% of Millennials and Gen Z found that climate change is a huge challenge and want more ambitious goals from businesses and government to tackle this issue. Millennials and Gen Z entering the workforce over the next few years will expect bold social and environmental targets from potential employers and failure to have a proper sustainability agenda and very little effort to engage employees could see top talent choose elsewhere over your company.
Rewards that are environmentally friendly
We've established that rewards can motivate sustainable behaviour. So why not continue to embed a sustainable culture by opting for more sustainable rewards. Employers can partner with Climate Perks, who help employees take low carbon holidays. Climate Perks offer employees paid journey days for those travelling on holiday by train, coach or boat thereby limiting air travel-based emissions. Cycling to work and car sharing schemes, particularly in an electric vehicle, are more examples that will also continue to have a positive environmental impact as opposed to a one-off reward. Even rewarding with work from home days is a more environmentally friendly idea but will probably seem less of a novelty post pandemic. Patagonia provides employees with the chance to volunteer for environmental groups for up to two months whilst still receiving pay and benefits and continues to receive a positive reception from media outlets and employees for its trailblazing approach to sustainability and promoting a healthy work culture. Employers could also pay into green pension funds which earn interest for savers through investment in environmentally positive, low-carbon companies and is expected to gain more traction as we move away from fossil fuels towards long-term sustainable investment. You can seek expert advice from specialist companies like Pensions for Purpose, a tailored firm that exists to encourage impact investing.
Summary
Whilst incentivising is a good strategy, psychology research shows that rewards can reduce one's intrinsic motivation, which is the motivation that comes from the sheer satisfaction of performing an activity rather than being driven by external rewards, also known as extrinsic motivation. When rewards turn into expectations and only evoke short term motivation, businesses need to reassess if sustainability is truly being embedded in its culture. Whether an incentive is driving motivation intrinsically or extrinsically, isn't the change in action valuable either way? This change in behaviour repeated over time then becomes the norm. What do you think?
Rewarding employees may not be a viable option for smaller businesses or those starting out. Some believe that businesses have an inherent responsibility to address climate issues and see no value in assigning sustainability related rewards. If the business is able to motivate staff, reduce emissions and start making a positive impact without rewards this would show a very engaged workforce which is the ultimate goal. If you do need the motivational support, you may find that incorporating compensation and rewards related to green goals is a great transition to accelerating your business on its sustainability journey.
If you want advice or insights from how other businesses are approaching sustainability within the workforce and incentive schemes make sure to sign up to our newsletter. We will be launching our community platform shortly where you can reach out to like minded professionals and organisations for collaboration and best practice ideas. We also run regular webinars and workshops to dive deeper into these topics. You can find details on our next events here...
Other articles you might like:
Scaling up through collaboration - 'How to scale through collaboration'
Engaging customers - 'Creating customer demand for sustainability'
Responsibility - 'Whose responsibility is sustainability?'