13 May 2022
Coldplay's Inspirationally Sustainable Tour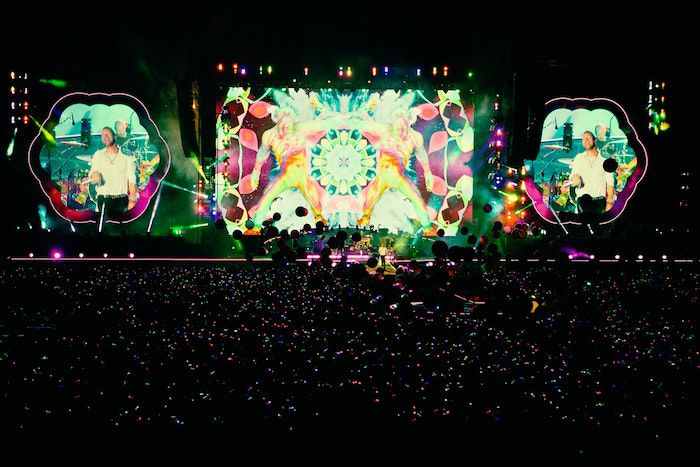 In 2019, Coldplay announced they wouldn't tour unless they could do it sustainably. A year later, Foals keyboardist Edwin Congreave, told the BBC, "I think that it would be quite easy for us and a lot of bands to tour differently,"... "I don't want to fly ever again," and went on to describe his eco-anxiety. Massive Attack have also said they'll tour Europe by train in order to reduce their carbon footprint.
On their website Coldplay say, "In 2019 we commissioned a team of sustainability experts to investigate our environmental impact and carbon footprint. This has helped us to identify the key areas where we can avoid, reduce and mitigate our carbon emissions."
Now Coldplay are set to go back on tour with their new sustainability plan. They have promised that the 2022/23 tour will have 50% less carbon emissions than the 2016/17 tour. So, how are they going to do that?
For every ticket sold they say they will plant a tree. Their 2016/17 tour was attended by 5.4 million people, so that's a lot of trees!
And there will be biodegradable confetti and "sustainable pyrotechnics"!
The tour will be fueled "almost entirely" by renewable energy, using solar panels, biofuel, recyclable batteries and renewable power from the grid. The band has also made headlines with their plans to use kinetic energy generated by dancefloors and pedal bikes.
Venues will be asked to install aerated taps, low flushing toilets, reduce water pressure and to start recycling programs. And venues will be told not to sell single-use plastic.
Every detail seems to have been considered, the set will be built from sustainable materials, lighting will be energy efficient, the PA system will use 50% less power than the previous tour and there will be water refill stations. Even the catering has been accounted for, with vegan and vegetarian options, sourced from local farmers who "practice regenerative agriculture techniques" and lab-grown food too! All leftover food will be donated to food banks or composted. Plus, all the merch will be made from recycled materials and from ethical suppliers
Attendees will be able to download an app that will show them the route with the lowest emissions to the venue, where they'll be rewarded with a discount code. Using the information gathered by the app, they will calculate the travel emissions and offset them with nature-based solutions.
The band have been criticised as they will still be flying on planes. However they will be using sustainable aviation fuel, which while better for the environment than traditional aviation fuel, it's still significantly worse than other forms of transport. Unfortunately, there is not yet a viable way to fly sustainably.
They've said,
"Although the tour has been carefully routed and pre-planned to minimise air travel, some flying is unavoidable. The band will mostly fly on commercial flights, but there will inevitably be occasions when charter flights are required for band, crew and equipment."
Despite their extensive and varied sustainability plan, they end by saying,
"We acknowledge that, despite our best efforts, the tour will still have a significant carbon footprint. We pledge to drawdown significantly more emissions than the tour produces by supporting various nature projects around the world, focusing on reforestation, rewilding, conservation and soil regeneration."
On top of everything else, they plan to donate 10% of their earnings to ethical and sustainable causes, including The Ocean Cleanup.
Coldplay's new tour shows us that with some imagination, and admittedly lots of resources there's a lot that can be achieved. It should be taken as inspiration for the event industry to think more extensively about sustainability.
Many of the technologies and initiatives put into place on Coldplay's new tour, could be implemented in almost any business's operations. We could all switch to a renewable energy supply, install aerated taps, encourage recycling and cut out single-use plastics, make our lighting more energy efficient and eat a plant based diet. And even the more eccentric solutions, like the kinetic dance floor tiles, could be installed anywhere. In fact similar tiles have been installed at Heathrow Airport, the finish line of the 2013 Paris Marathon and the 2017 Festival of Lights in Berlin.
In order for our businesses to operate more sustainably we've got to look extensively at every area that produces emissions. And think creatively about finding solutions. We'll be running a free sustainability workshop to help to do just that at Reset Connect London.
Reset Connect London, 28-29 June, will bring together investors, industry leaders and innovative start ups to speed the transition to a green economy and reach net-zero. Register for a ticket to get involved.