29 Jul 2021
Clean energy: future energy solutions for business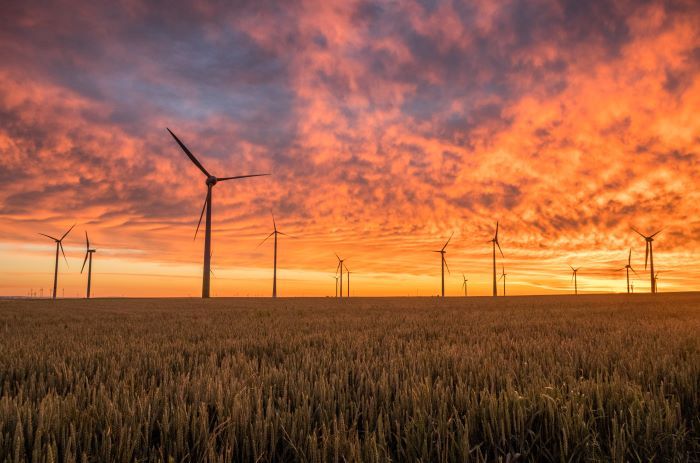 For our session 'Clean Energy: Future Energy Solutions for Business,' we were joined by moderator Amy Marshall, Director & Energy Lead at KPMG; Chris Bowden, Managing Director of Squeaky; Juliet Davenport, Founder of Good Energy; Zoisa North-Bond, CEO of Octopus Energy for Business; Emily Farnworth, Chair of Advisory Group at RE100 and Richard Murphy, Managing Director at The Energy Consortium.
The discussion touched on some recurring themes which we will highlight below. You can also watch the webinar on-demand here.
The role of the consumer in transitioning to net-zero
Juliet's goal in setting up Good Energy back in 1999 was "to really empower consumers to be part of the [climate change] solution and not part of the problem," by providing consumers with locally produced renewables as well as the chance to be renewable energy generators themselves. Reaffirmed by Good Energy's Renewable Nation: Pathways to a Zero Carbon Britain report, Juliet emphasises that consumers will start to actively engage more in storage, generation services and energy efficiency, which will mobilise the shift to net-zero. It is up to the energy suppliers to reduce costs for consumers and produce innovative green products in line with current consumer demands. Juliet notes that "CEOs used to talk about delivering power to the meter, not beyond the meter. They don't really care about what happens beyond the meter and they assume all customers are the same," which completely overlooks an important prerequisite for the modern consumer: flexibility. Consumers have different energy requirements. Suppliers must cater for this through solutions such as demand side response, storage, generation on-site or by informing consumers of the source of their energy. Long lasting behavioural change is vital in ensuring decarbonisation and a transition to a net-zero future but is only possible if suppliers empower and engage with their consumers with pioneering and tailored products.
Democratisation of access
Zoisa cites the creation of Octopus Energy for Business stemmed from the frustration that smaller businesses did not have access to renewable energy. Octopus Energy uses technology to drive down the cost of delivering green electrons. Zoisa notes that small businesses lose out on the benefits of locally produced renewable power, despite best intentions, due to the current system's lack of recognition for decentralisation, which refers to energy that is produced off the main grid. Whereas large businesses, with the financial and organisational capability for on-site renewable generation, can "bypass grid costs and almost cut out 40% of their bill." If suppliers do not cater for small businesses and their needs, then the transition to renewables will be significantly hindered.
Government plays a huge role in facilitating the democratisation of energy whilst protecting all those involved, especially those who don't have access to iron-clad legal teams such as small businesses and individual consumers. Emily of RE100, a global initiative of over 300 influential corporations committed to the transition to 100% renewable power, notes the role huge corporations have in putting pressure on governments whilst also supporting their value chain/supply chain in switching to renewables. She also notes "There's a desire to make sure there's a much broader range of businesses that can get involved in switching to renewables so there's a cross-economy wide push and not just big organisations able to use this as a leverage." Emily further highlights the shift in attitude of some of these corporations as now they are "thinking about wanting to get power locally from renewables, so it's not just about pulling together synthetic power purchase agreements from anywhere they can get their hands on, it's actually about wanting to change the system at a local level." Big corporations' attitudinal shift to local power generation, decentralisation and renewables for SMEs are all factors in transitioning to net-zero and presents lots of opportunities, so watch this space!
Power Purchase Agreements
Power Purchase Agreements (PPAs) are an agreement between two parties, usually the power generator and a buyer (could be an energy consumer or trader). A PPA aims to protect buyers against fluctuating energy prices and is a great way for a company to indirectly fund renewables projects and add new renewable energy to the grid.
Our panellists explored if the complexity of the PPA process obstructs customer engagement and whether simplification and standardisation of the process may lower the barrier. Richard of The Energy Consortium, a member owned organisation that offers energy solutions such as energy procurement and risk management primarily to the education sector, acknowledges the difficulty in simplifying these huge commercial deals as these agreements seek to protect every party involved. He says, "There have been failures of some large businesses in the last 14 months;, trying to get a deal that covers risks for all players is going to be tough to whittle down." Juliet agrees, "I don't expect PPAs to be massively stabilised for a little while as we find our new funding capability and our new demands on renewable power stations," and expects in the future PPAs will evolve to paying more for more flexibility. While the PPA process may be complicated, these agreements seek to benefit all parties and provide generators with predictable capital to finance projects, especially as renewables move away from subsidy funding.
Chris Bowden of Squeaky, a B2B marketplace for clean energy, pioneered the first corporate PPA in 2008 for Sainsbury's and is all too familiar with the complexity of these deals. His team at Squeaky are committed to simplifying this process to allow smaller businesses to access the market and purchase power like the large corporations.
The future of the renewables landscape
Emily and Zoisa predict the renewables landscape will see new players and new projects across the globe, born from the frustration of the current system, building out from grids and serving local communities. Juliet anticipates far more technology-led disruption in the market through "smart charges, smart cabling, energy efficiency, demand side response [...] local producers on site rather than through wires […] apps that fundamentally help you look after the whole system." Digitalisation, especially through aesthetic and user-friendly apps, can increase consumer engagement with their own consumption and aid their decision making and as we noted before, consumer behaviour is key in driving to net-zero. Richard and Chris are more cautious given the failure of new domestic suppliers to make money with Chris wary that we will be left with "not the big 6 but the big 3 or 4" in terms of suppliers.
What we can predict is that the renewables industry will garner more attention given the government's target of reducing carbon emissions by 78% by 2035. Find out more about the discussion and thoughts from the panel by watching the webinar 'Future Energy Solutions for Business' on-demand.
Whether you're a generator, supplier or an energy consumer, Reset Connect is here to help you accelerate your journey towards net zero by creating valuable connections.
Don't miss out on the chance to be a part of a large network of ground-breaking pioneers. Make sure you have signed up to our platform here. You can connect and collaborate with our growing community of sustainable businesses and professionals on our platform including the speakers by clicking the 'attendees' button and messaging directly.