16 Jun 2022
Clean air day - 16th June - 15% off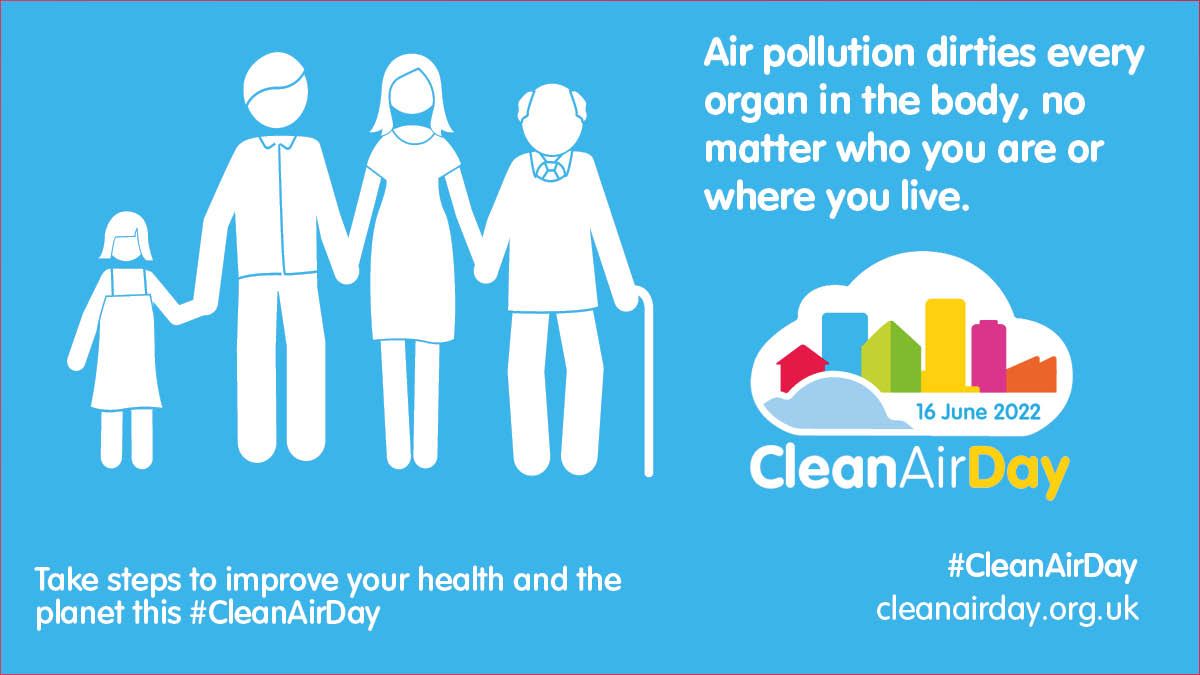 The theme for this year's Clean Air Day is "Air pollution dirties every organ in your body. Take steps to improve your health this Clean Air Day."
Now in its sixth year, Clean Air Day is the UK's largest air pollution campaign.
According to Global Action Plan, the charity who organise the day:
"Air pollution can harm every organ in the body and shorten lives, contribute towards chronic illness and put people more at risk from COVID-19. When polluted air is breathed, it can inflame the lining of the lungs and move into our bloodstream, affecting every organ in the body. This can lead to lung disease, heart disease, dementia and strokes."
…
Every year, air pollution causes up to 36,000 deaths in the UK.  The World Health Organisation and the UK Government recognise that air pollution is the largest environmental health risk we face today.
…
Specifically, Global Action Plan is encouraging people to:
Spread the word about the harms of air pollution.

Walk those short distance trips and leave the car at home, where you can.

Ask local and national decision makers for a change in your local community that would make it easier for you to walk more, leave the car at home and breathe clean air. 
…
The five-year review reveals half of the UK public have now heard of Clean Air Day, since the campaign's inception in 2017. Eight out of ten (82%) people believe tackling air pollution should be a priority for the UK and six in ten (64%) people now choose to walk or cycle instead of using a car for short journeys, a 22% increase since 2017."
We all need to be making changes in our lives to allow for a sustainable future. Clean Air Day encourages us all to consider what role we play in contributing to polluted air and what we can do to reduce our impact. Whether that's using cars less or not at all, travelling by bike or foot or by contacting our local councils and local MPs to request policies that will reduce air pollution. We can also go further than this, those of us who run businesses must measure our emissions and pinpoint what we do that contributes to pollution, and then work to reduce it. And those of us working for these businesses must encourage management to implement carbon reduction policies and empower staff to form green teams to tackle business processes and impact themselves.
As it's clean air day, we are also pleased to announce U-Earth Biotech as a new event partner. Moved by the vision of making clean air a human right, U-Earth provides cutting edge, nature based, and bespoke solutions - Pure Air Zone air purification services and U-Earth Store hyperhealth products, building a community of game changers and pioneers to help in the air quality revolution.
To celebrate Clean Air Day we're offering 15% off all conference tickets to Reset Connect London this week. Use the code AIR15 at registration. We also have free tickets available for the exhibition.
Reset Connect London bridges the gap between business and finance to ensure sustainable solutions and funding are accessible to all. Whatever your place within the company and wherever you are on the sustainability journey, now is the time to be accountable for the impact you can make for your business.
Hear from 150+ speakers in the conference programme and meet 100+ exhibitors on the show floor.
Find out more and book your ticket www.reset-connect.com/registration
For more information on Clean Air Day go to www.cleanairday.org.uk