06 Jun 2022
50 Years of World Environment Day! What Will You Do to Protect the Planet?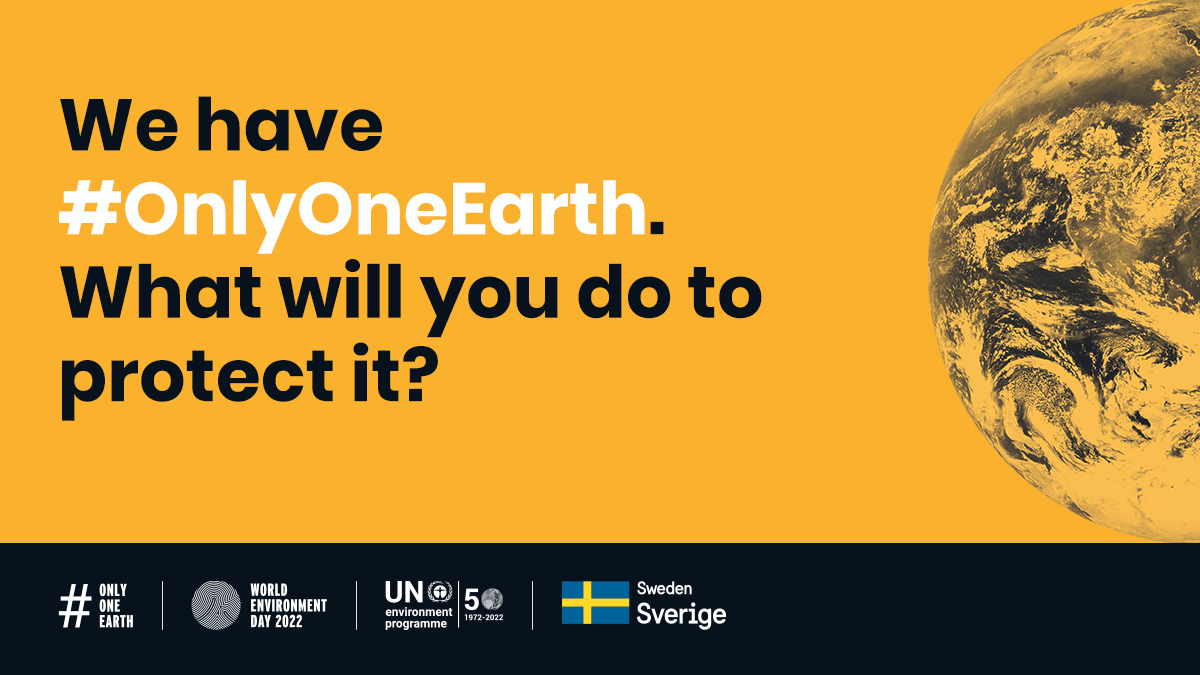 On Sunday, World Environment Day was hosted in Sweden! This year marks the 50 year anniversary of the 1972 United Nations Conference on the Human Environment which was held in Stockholm and is generally considered the world's first meeting for the environment. The 1972 conference was the catalyst for global agreements for the protection of the planet and the formation of agencies around the world dedicated to this mission. This is also where World Environment Day was first dreamed up, with the inaugural event being held the following year.
Only one Earth
In the universe are billions of galaxies,
In our galaxy are billions of planets,
But there is #OnlyOneEarth.
Let's take care of it.
This year, organisers are encouraging people and businesses to join the #OnlyOneEarth campaign running alongside World Environment Day 2022, this was the slogan used for the 1972 UN Conference. The campaign encourages taking positive climate actions, even small everyday changes and sharing them on social media or by hosting local events. The idea is to highlight the progress already being made, in order to inspire everyone to do something. They've published a document of suggested changes, such as taxing carbon, shifting investment towards sustainable business, lobbying the government to implement positive climate policies and encouraging individuals to speak out in support of the environment. These aren't just directed at individuals but governments, cities, finance, business, community organisations and educational institutions. This is because we all need to be doing something now, which is also how Reset Connect London came about, to encourage these same entities to come together to learn, collaborate and create change.
WED organisers have said, "Earth faces a triple planetary emergency:
the climate is heating up too quickly for people and nature to adapt;

habitat loss and other pressures mean an estimated 1 million species are threatened with extinction;

pollution continues to poison our air, land and water.
The way out of this dilemma is to transform our economies and societies to make them inclusive, fair and more connected with nature. We must shift from harming the planet to healing it.
The good news is the solutions and the technology exist and are increasingly affordable."
#OnlyOneEarth is the campaign for World Environment Day 2022. It calls for collective, transformative action on a global scale to celebrate, protect and restore our planet.
"Truly transformative options need to be available, affordable and attractive to people so they can make better daily decisions. Many of these options can only be created by larger entities: national and sub-national governments, financial institutions, businesses, international organisations, and other organisations with the power to rewrite the rules, frame our ambition and open up new horizons."
The responsibility for overcoming the climate crisis lies with everybody, every company and institution. We all need to be working towards living our lives and running our businesses sustainably. World Environment Day reminds us to make sustainability a priority in our lives. It is about celebrating the progress that has been made while encouraging everyone to take further action.

Why take part?
The UN tells us "Time is running out, and nature is in emergency mode. To keep global warming below 1.5°C this century, we must halve annual greenhouse gas emissions by 2030. Without action, exposure to air pollution beyond safe guidelines will increase by 50 per cent within the decade and plastic waste flowing into aquatic ecosystems will nearly triple by 2040.
We need urgent action to address these pressing issues, making "Only One Earth" and its focus on living sustainably in harmony with nature, as pertinent as ever."
In honour of the 50 year anniversary of World Environment Day we are offering 50 free tickets for full delegate passes to Reset Connect London, 28 29 June, ExCeL, London. The event follows the same thinking as WED whereby we need larger entities, businesses, cities, government, finance communities coming together to learn and share ideas for creating sustainable environmental change.
To take part, please complete your registration information at https://www.reset-connect.com/registration using code WED50 and share your attendance using the pop-up information and suggested copy at the end on your LinkedIn, Twitter or Instagram feed. The first 50 entries will get a free delegate pass (worth up to £1200) with access to 100+ exhibitors, 150+ speakers, 50 sessions, 2 keynotes and all networking events. This offer is valid to the first 50 entries by the end of 10 June only.