Carbon Data Services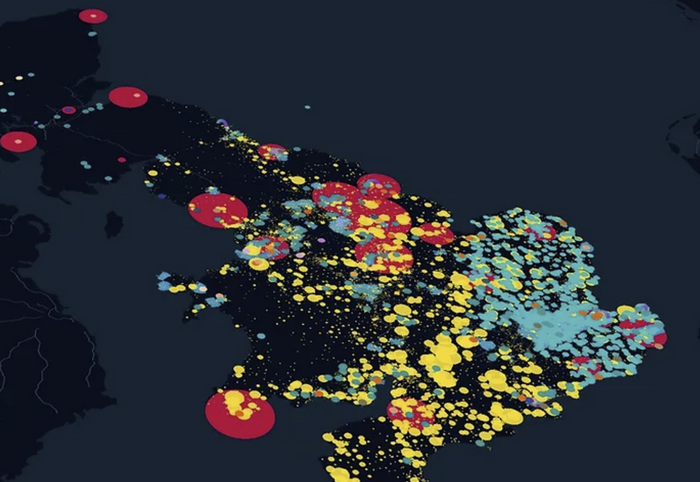 Trusted Compliant Methodologies
Using power flow analysis and a digital twin of the GB energy system, we calculate carbon emissions factors to MSOA level, a census unit of up to 6,000 households. We do this every half hour. This is a dramatic improvement to the current common practice which uses a low resolution national and annual carbon emission factor to report carbon emissions and carbon offsets.
You cannot meet SECR and CDP's GHG best practices any other way.
Average Emission Factors
An Average Emission Factor is the carbon dioxide emissions associated with each unit of electricity provided by an electricity system (tCO2eqv/MWh). The Average Emission Factor is updated every half hour and is available as both forecast and historic values.
Marginal Emission Factors
The tonnes of CO2 or equivalent emissions (tCO2eq/MWh) that are emitted by the next additional MWh of energy that is consumed. It is calculated half-hourly for 14 network regions across the country. This is the value used to measure how much carbon is offset by actions that reduce the consumption of non-renewable power.
Calculated Emission Reductions
Calculating the emissions reductions of an asset is one use of the Marginal Emission Factor, and Advanced Infrastructure's Carbon Data Services makes this simple.
Users upload energy consumption and generation data for a storage asset, or generation data for a renewable asset. The half hourly and total carbon emissions reductions of the asset are calculated based on the local marginal emission factor at the time of asset operation. This is done historically, and generated data can be used to certify carbon emissions reductions. An additional service offers guidance using forecast marginal emission factors to optimise asset operation for maximum carbon reduction. Forecast data can also be used to model the likely carbon reductions of planned energy projects and optimise project site selection to maximise carbon reductions.
Dashboard and visualisation
Carbon Data Dashboards take all the pain away from reporting your carbon emissions by putting the key up to date and highly granular carbon data relevant to your reporting standards right at your fingertips. This makes regular reporting simple by allowing you to configure your calculations and workflows so that you can re-run the data processes required for any of your Carbon reporting or analysis requirements. Visualisation is also made simple to evidence sustainability plans and success to key stakeholders.