24 May 2022
Central Hall Westminster welcomes students for World of Work Day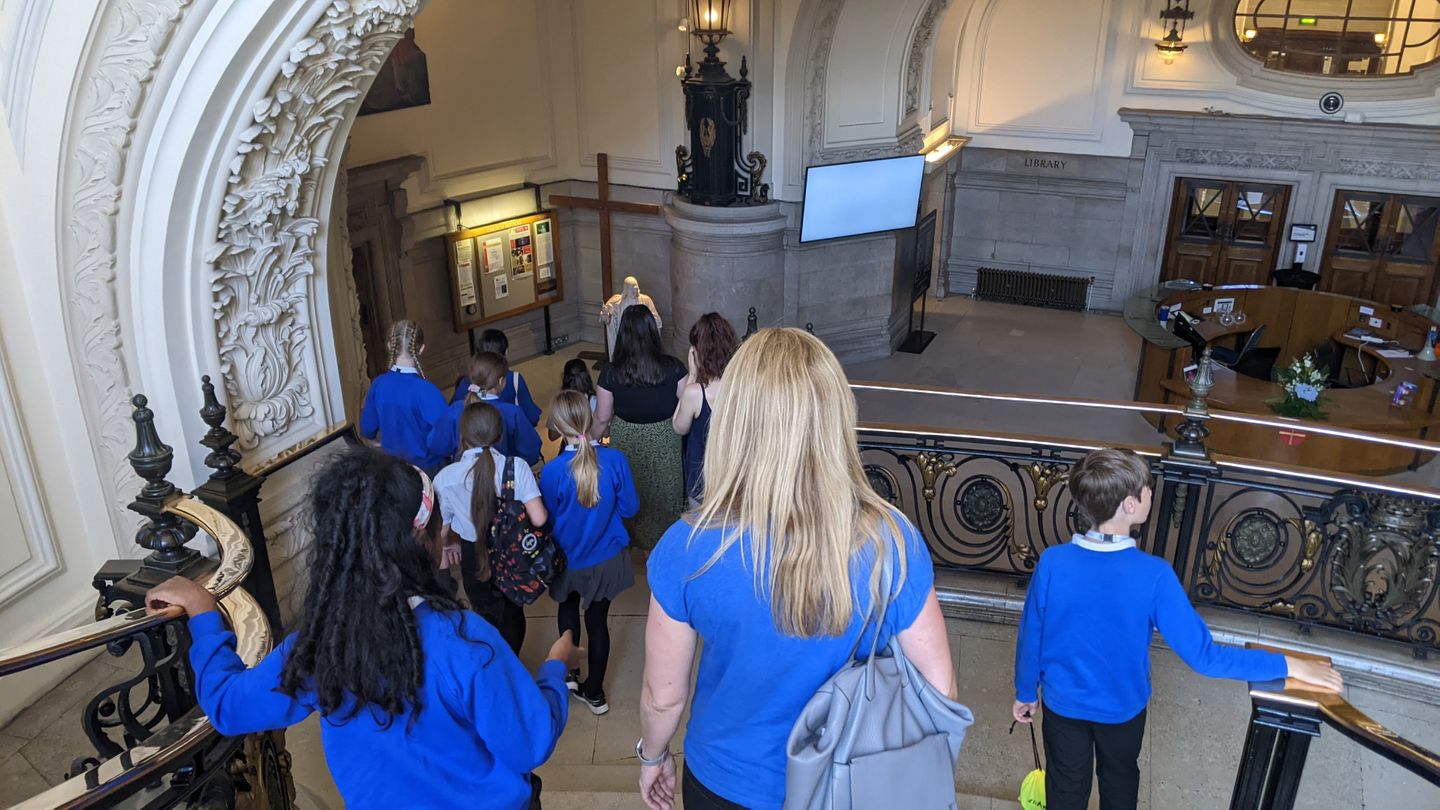 Central Hall Westminster (CHW), part of Central Hall Venues group, welcomed students taking part in World of Work Day on Tuesday 17th May for an immersive experience of the iconic venue. The event was organised by Yes Futures, a national education charity which provides personalised support to help students realise their potential.
This was the second time CHW has taken part in the scheme with 11 students aged 10 to 11 from Shelley Primary School in Horsham, Sussex, spending the day at the central London venue for an exciting programme of interactive and educational sessions. The day was designed to offer a first-hand look at how the events industry works and the range of roles available.
Hosted in partnership with CHW's in-house AV and production partner, White Light and caterer, Green & Fortune, the students were given a tour of the historic building which has hosted some of the world's most significant events and welcomed many famous names.
World of Work Day is a key part of Yes Futures' personal development programme for schools in London and the South East to help students realise their potential and develop the life skills needed to succeed in further education, training and employment. Visiting an inspiring workplace such as CHW allows the youngsters to raise their aspirations, gain a better understanding of working life, and develop key employability skills.
To support the initiative, White Light's dedicated team based at Central Hall Westminster gave the students an insight into the technical production requirements for delivering events in the iconic venue. Through a demonstration of a time-coded 'show', elements of lighting and audio were synchronised, to emulate the 'behind the desk' experience in a live environment. They were also able to see key equipment, such as moving lights, up close to understand the mechanics and how these are used to enhance architecture and performance features. They also learned more about the diverse nature of WL's business and 50-year history as a leading technical solutions specialist, as well as their award-winning apprenticeship scheme.
As a novel way of meeting the events team at CHW, the students took part in a 'speed networking' event followed by a round robin of quick-fire questions for each member of staff. The day was rounded off by a cupcake making session with on-site caterer, Green & Fortune.
Anna Glazebrook, Head of Communications of Central Hall Venues, which runs Central Hall Westminster, comments: "We were delighted to welcome these students as part of the Yes Futures World of Work Day and give them a behind the scenes look at the venue and the events industry in general. We hope their visit has inspired them and offered a first-hand insight into the exciting range of roles available in the industry as well as the skills required."
Sophie Bartlett, Acting CEO and Director of Impact at Yes Futures, adds: "The students had a wonderful time at Central Hall Westminster for World of Work Day and this kind of immersive experience is what our multi-award winning charity is all about – helping young people to realise their potential and develop the life skills needed to succeed in further education, training and employment. A big thank you to all the staff Central Hall Westminster for helping to make this inspiring day happen."