SRI Services & Partners Good Money Week 2023
05 Oct 2023
Christ Church Spitalfields, Commercial Street, E1 6LY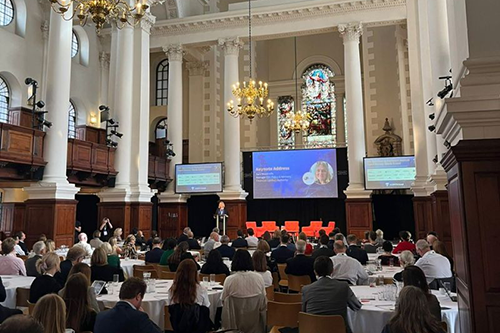 This in-person gathering provided a full day of insightful keynote presentations and deep-dive fund manager panel discussions, exploring different aspects of sustainable, responsible, ESG and ethical investment strategies and their purpose, to help financial advisors, financial planners and wealth managers to better meet their client's needs.
With individual talks from 18 leading sustainable fund managers, keynote speakers from FCA and NGO Client Earth, expert speakers from UKSIF and climate expert actuary Mike Clarke, 6 hours of CPD accreditation and an evening drinks reception, the event provided plenty of opportunity to learn from and network with the best in sustainable, responsible, ESG and ethical investments.
Take a look at the agenda, the lineup of speakers & confirmed session topics
Deepen your knowledge, broaden your network, and learn about being 'part of the solution'
Please note, those actively involved in the retail financial services / financial advisory work were only permitted entry to this event.
If you missed the event please check out the discussion recordings below