Part 2 - The Climate Conversation: Why COP26 is just the beginning
11 Nov 2021
(Your local time: - )
Founders & Entrepreneurs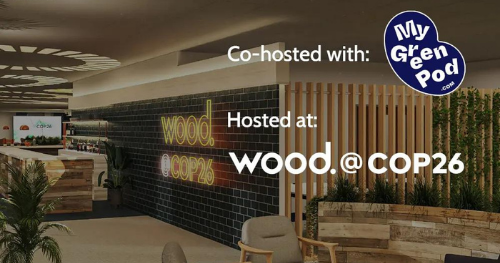 Focus:
70% of the world economy has committed to net zero by 2050. The climate crisis is on the front page of every global news outlet. Are we finally seeing a mass mobilisation and realisation of what is at stake?
As part of our commentary around COP 26, Reset Connect and My Green Pod have teamed up to host an exclusive 3-part series to honestly and boldly tackle the critical realities of climate change, and what political inertia and dithering means for our planet.
During part 1 (watch the replay here), our panel offered 5 very clear objectives and ambitions that we MUST see realised during the 2 weeks of the conference:
A recognition that inequality is THE block to helping unlock climate issues

Urgent and very clear communication to the public of the global threat. Our political leadership must do this together.

It's time to herald the emergence of science-based policy. Taxation of carbon and greenhouse gases is urgently required to cut emissions and COP26 is the right place to announce this.

A public discussion to remove greenwashing. Clear accountability and transparency on externalities, with multinationals playing the key role.

Clear examples and demonstrations of international Government's enabling investment in the right places - innovation and transformation in every sector
Do you want to see a panel of international climate experts hold COP26 to account?
Do you want a "warts and all" assessment of the key developments, designed specifically for business?
Do you want to know what happens next, and the part you have to play?
Join us live at Wood House in Glasgow for Part 2 as we digest these ambitions, analyse and argue the extent to which they have been met, and demand answers on the things we haven't seen enough progress on!
Series Speakers:
Andy Aitken, CEO & Co-Founder, Honest Mobile

Ewen Anderson, Co-founder & CIO, Px3

Emily Cromwell, Climate Change and Sustainability Lead, Deloitte

Dianne Dain, Co-founder, COPXX

Paul Dickinson, Founder Chair, CDP

Duncan Grierson, Founder & CEO, Clim8 Invest

Roger Leese, Partner, Clifford Chance

Bianca Pitt, Co-Founder, She Changes Climate

Ann Rosenberg, SVP for Sustainability Solutions, Wood plc

Jarvis Smith, Co-founding Director, My Green Pod

Jayn Sterland, Managing Director, Weleda

Antoinette Vermilye, Co-founder, Gallifrey Foundation & She Changes Climate

Florence Miller, Director, Environmental Funders Network

Jessi Baker MBE, Founder & CEO, Provenance

Fiona Haworth, CEO, Octopus Electric Vehicles
Part 2's live panel at Wood House in Glasgow will be streaming on the Reset Connect community platform for those not able to attend in person.
In part 2 of this event series, Jarvis spoke with Ann, Roger, Florence, Jessi & Fiona