ESG Webinar: What are Investor Responses 6 Months Post-COP?
04 May 2022
(Your local time: - )
Finance & Investment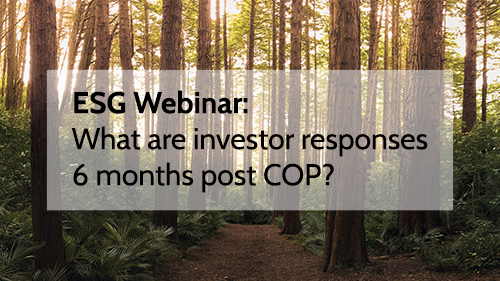 Focus:
COP26 brought global leaders together to advance the agenda on tackling climate change and for countries to submit updated plans on limiting global warming to 1.5 degrees. The Conference saw some great advances including Mark Carney's announcement of the Glasgow Financial Alliance for Net Zero's $130trn of private capital directed towards decarbonisation.
Now, 6 months later, we examine how the investment sector has responded. Our speakers will tackle this question by addressing key concerns. How do we assess the repurposing of portfolios as ESG? How do repurposed portfolios differ from existing sustainable funds? How can we tell if stewardship activity is real/beneficial and how can advisers talk about stewardship with clients? In what ways has the Ukraine situation changed our demand for ESG? Joining us will be influential speakers from some of the largest sustainability and ESG focused funds.
Audience Focus:
Financial advisers and intermediaries

Investors focused on ESG funds

COP26 attendees and delegates

Businesses looking to align their practices with COP26 targets in order to attract investment
Contributing Speakers:
Moderated by: Julia Dreblow, Founding Director, SRI Services
Seb Beloe, Partner, WHEB

Mike Dowsett, Technical Services & Research Manager, Tenet Group

Wayne Bishop, CEO, King & Shaxson

Ben Constable Maxwell, Head of Sustainable and Impact Investing, M&G Investments