Invite Your Clients
We believe in achieving sustainability through collaboration and the bigger our combined reach to sustainability-driven businesses & industry professionals, start-ups, entrepreneurs & founders, sustainable events professionals and finance, investors & advisers to connect and find the best practise solutions and funding, the sooner we would be able to achieve the SDG's as a collective.
Feel free to use this standard invitation letter to send on to your potential clients:
Download official invitation letter
Exhibitor Registration
Registration for exhibitor staff is live and you register via the Registration and Badging section in the Exhibitor Zone.
An exciting feature of the exhibitor registration portal is the functionality to create unique tracking links to invite your own customers to attend and register for Reset Connect London. This unique link would allow exhibitors to track who has used their invitation link and have registered, which will make arranging and setting up meetings easier, knowing whom would be attending.
Invite your customers - How it works
Like you, we want to grow this sector so invite everyone you know. Spread the word of your participation and exhibition at Reset Connect London 2022 via the the Registration and Badging section on the Exhibitor Zone. In this section you would be able invite guests, access the lead scanner and find your action/promo codes allocated for discounts.
Within the Exhibitor Zone you will land on the menu page as listed on the left below.
Click on Registration and Badging. This section allows you to register your own staff and if you have booked any Delegate tickets register for them.
Under the Invite Guests tab you will find a unique URL (Registration Links tab as pictured below) to add to invitation emails you send out in order to track any Registrants who have used it..
All these registrant using your url can be exported. Use this data to thank them for attending and to arrange a meeting with them at the show.
As well as using the unique URL you can also download discount codes in the Action Codes tab (your discount promo codes). Make sure you use these codes and use up any allocation as soon as you can so people get the event in their diary.
If you are interested in purchasing additional discounted Delegate tickets for your team or your Customers get in touch with your account manager or email Laura Herrington.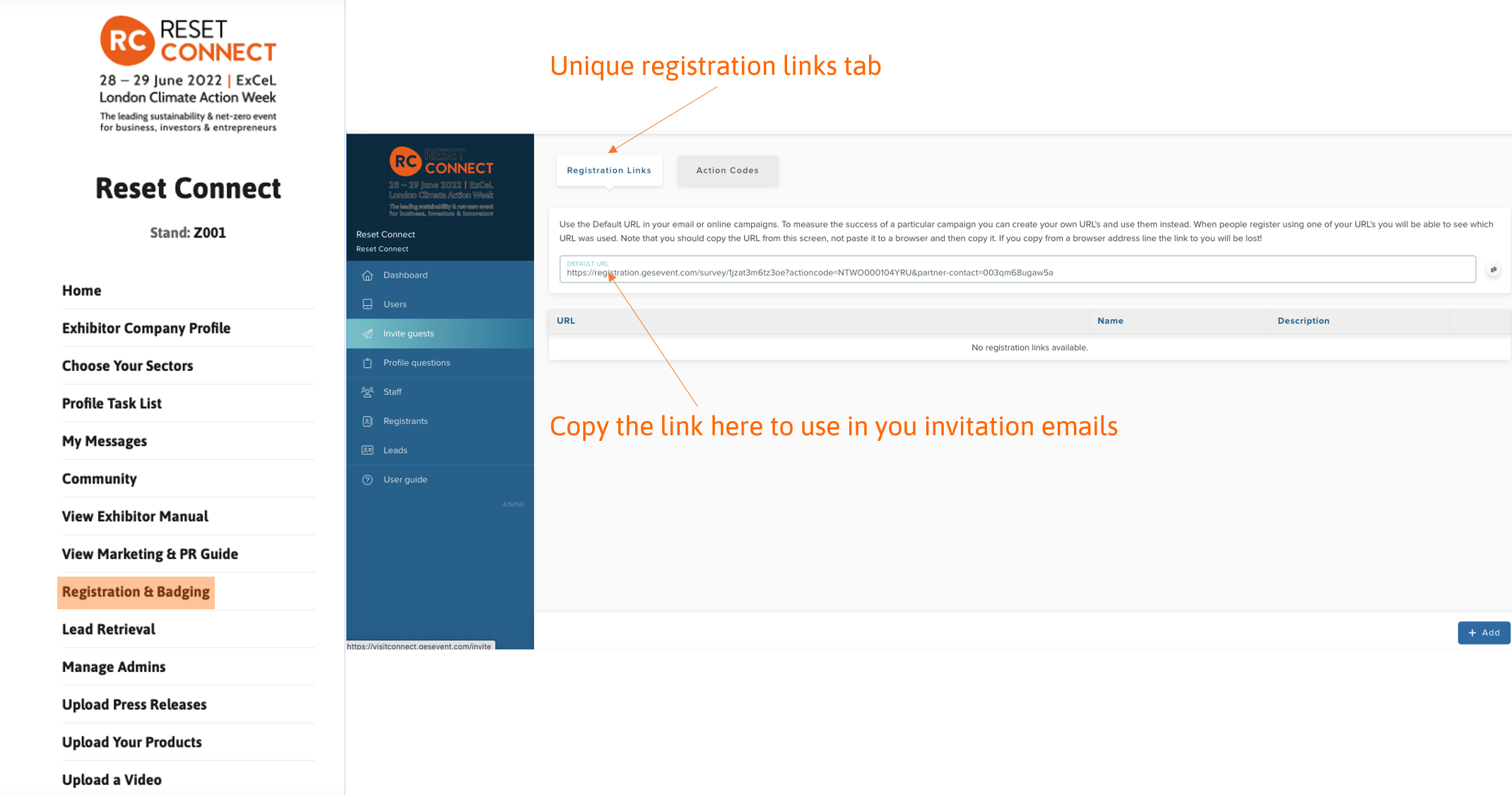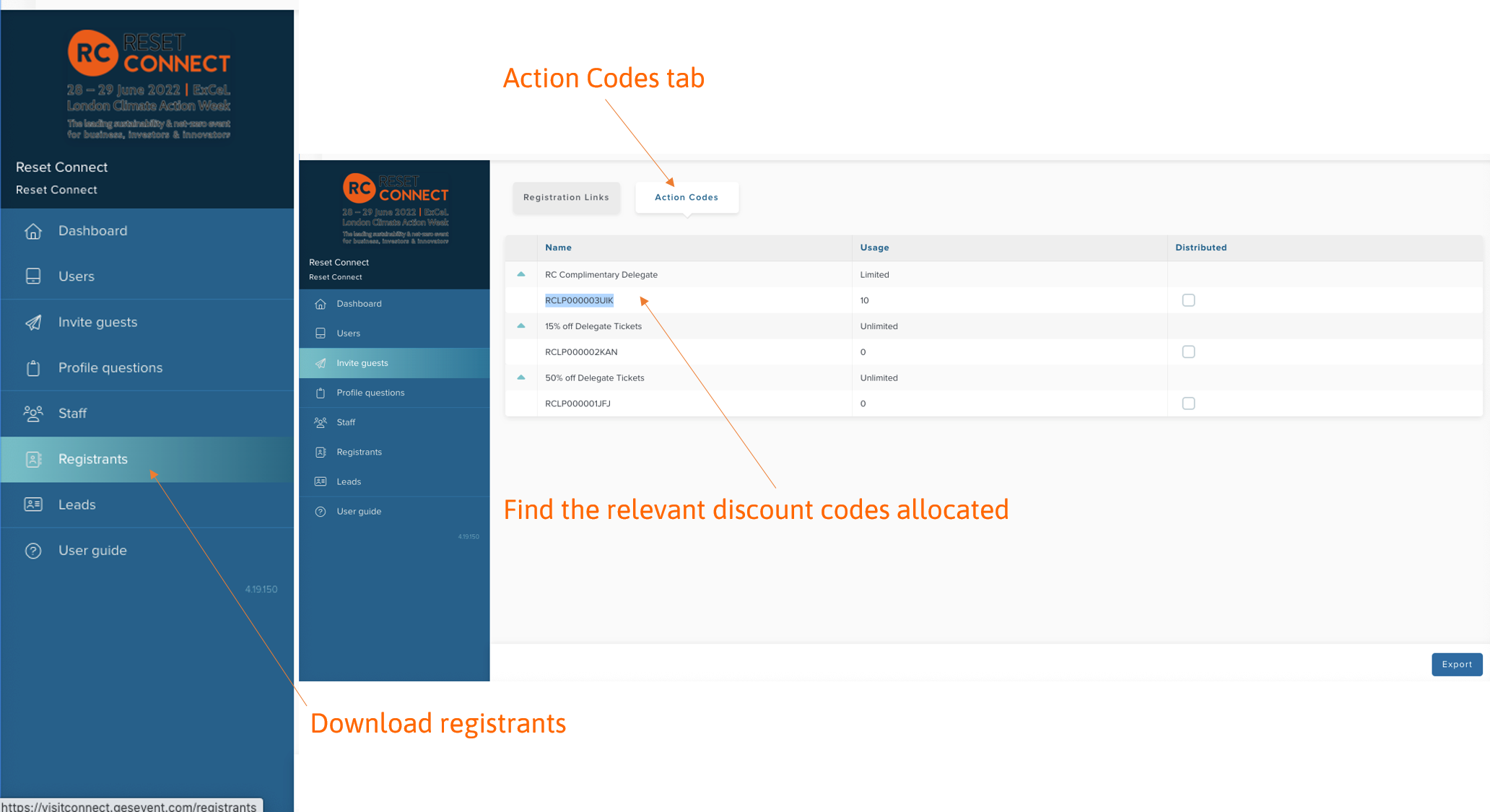 Create your own invitation email
Using this unique exhibitor link create your own personalised invitation email to invite your current and potential clients to visit your exhibition space, set up meetings and attend the exhibition and conference.
For ease of inviting your clients, feel free to use the copy below and amend as required. Below are some images to download should you wish to include in your email.
COPY: (Simply copy and paste or Click here top open mailer copy online.)
Subject Line: Join us at Reset Connect London 2022
Dear "First Name",
Come join us at Reset Connect London 2022, flagship event of London Climate Action Week, and the leading sustainability & net-zero event for business, investors and innovators in which we will be participating.
This disruptive new event provides present & future net-zero business solutions and the financing to implement them, bridging the gap between sustainability change-makers, business leaders, government and funding.
Don't to miss out on finding net-zero business solutions, financing to implement them and insights from 100's of leading sustainability experts and brands.
Register for a free visitor pass or discounted delegate pass.
- Free Registration - Provides access to the exhibition floor, 6 content hubs and the keynotes.
- Paid Conference - Access to the full programme of 150+ speakers, networking and the above.
We believe the event would be beneficial to attend in all of our goals in achieving sustainability and we would be delighted if you could join us.
When will it take place? The exhibition and conference takes place from 28-29 June 2022 at ExCeL London and we will be at stand "insert stand number here".
So see you at the show? Click on this unique link for registration "Insert your unique link" for registration!
My calendar will book up quickly. If you're interested in catching up or would like to discuss our product/service/solution offering then please reply and we can book some time!
See you there,
Share your attendance
We've made it easy to share your attendance to your colleagues and friends using the Gleanin marketing tool. Simply click on the link below, choose the image and post it on your Social Media Network. No login, no downloads and no hassle to share your attendance. Feel free to amend the post to personalise it - Click here to share
To share your company attendance and stand number we've created an unique Gleanin link for all exhibitors, email Hans de Ridder for your unique link to share. See example below for Gluon.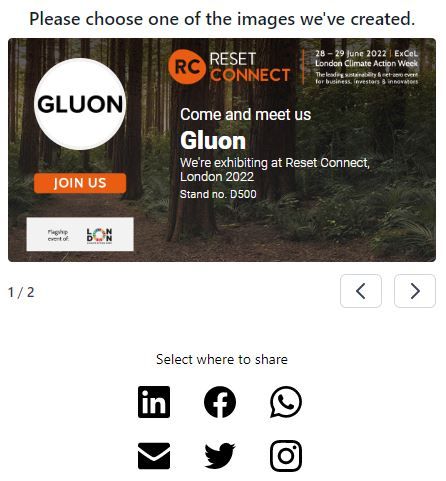 Feel free to download any of these images to use in building your invitation email:
Download Reset Connect Tree Image
Download Opening Keynote: The Doughnut Economy, A Framework to Balance Profit & Sustainability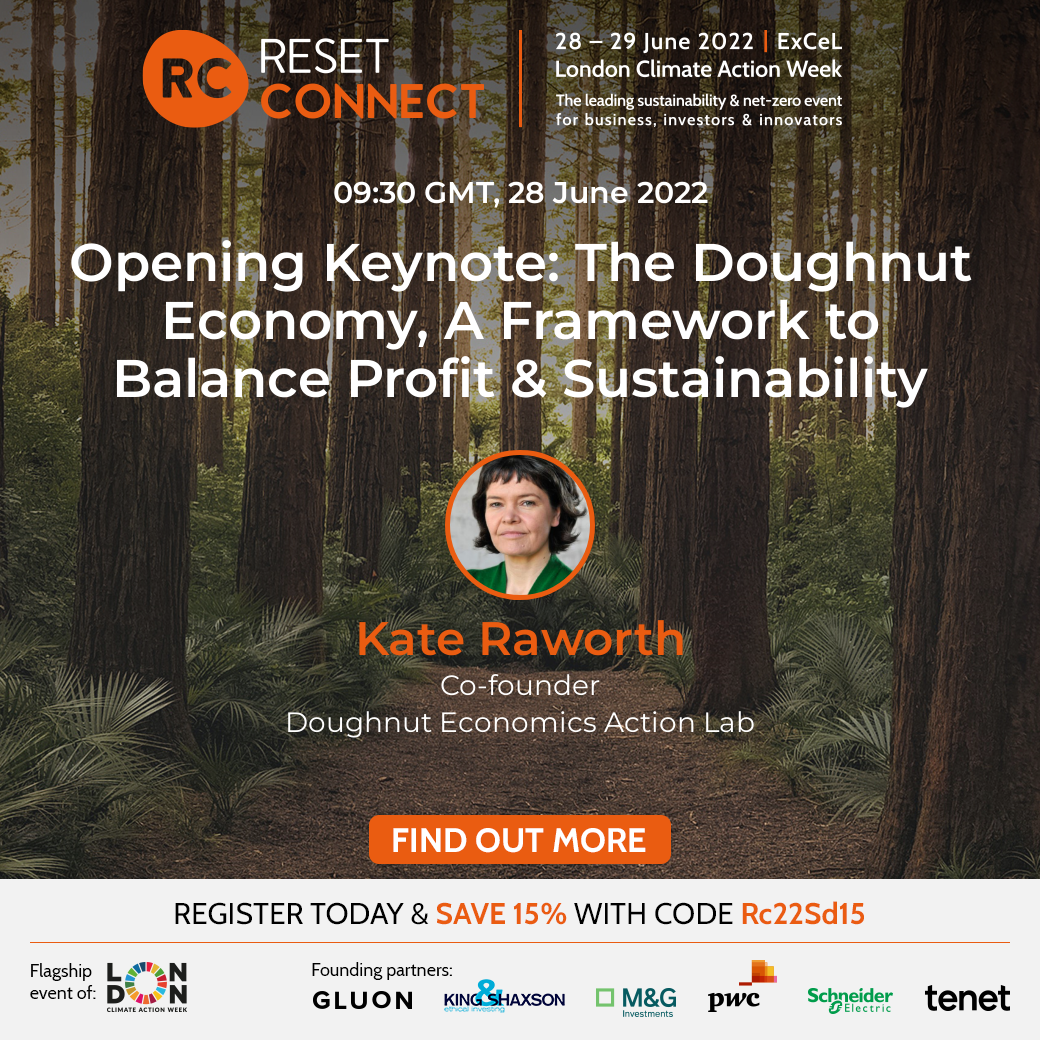 Download Opening Keynote: WWF's Future Vision for a Better World