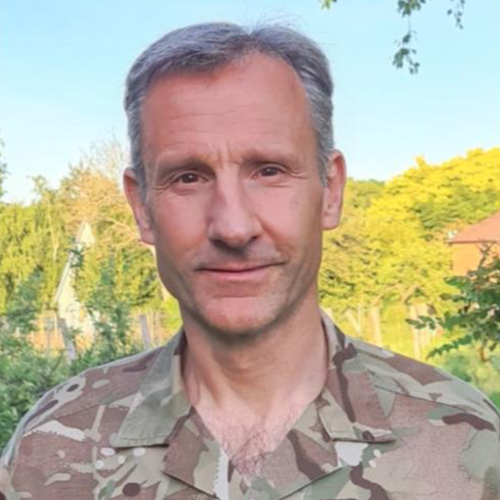 Major General Bobby Walton-Knight CBE
Director Strategy & Plans
,
Defence Infrastructure Organisation
As Director Strategy & Plans and the senior military officer in the DIO, Major General Bobby Walton-Knight plays a particular role in the relationship with the Front Line Commands and Head Office and in developing the DIO's ability to provide excellent advice. He also has specific responsibility for developing Defence's infrastructure asset management capabilities and for sustainability and climate change.
Bobby was commissioned into the Royal Engineers in 1991. Early service was spent in the UK and Germany, with deployments to the Falkland Islands, Angola, Bosnia and Kosovo, and overseas exercises in Canada, Poland, Belize, Australia and Cyprus.
As a major he commanded an armoured engineer squadron in Germany, deploying to Iraq; as a lieutenant colonel he commanded 21 Engineer Regiment in Ripon, deploying to Afghanistan; and as a brigadier he commanded 8 Engineer Brigade, where he led the interagency response to the 2014 floods in the south of England for which he was awarded the CBE.
On the staff, as a major, he was Military Assistant to Commander Regional Forces in Headquarters Land Forces. As a lieutenant colonel he was on the Directing Staff of the Joint Services Command and Staff College, and as a colonel he was responsible for change across the Logistics, Support & Equipment area of Army Headquarters. As a brigadier in Headquarters Field Army, he was responsible for manpower, equipment, sustainment and infrastructure, and then as Head Training in Army Headquarters he was responsible for transforming the Army's collective training. He took up his current appointment in July 2020.
He has a BSc in Human Biology and an MA in Military Studies. He has completed the Defence Technology Course, the Advanced Command and Staff Course, the Higher Command and Staff Course, and the Major Projects Leadership Academy.
Bobby is married to Sue, a modern languages teacher. They live in Wiltshire and have two daughters at university. His interests include running, hill walking, downhill skiing (for which he is an instructor), distance kayak and photography. He is making appallingly slow progress at learning French.